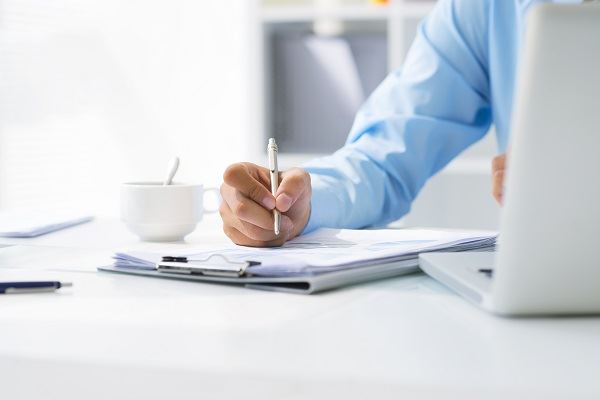 Paperwork is a more significant task for truckers and other CDL holders than many people realize. Carrying outdated or incorrect paperwork and failing to carry paperwork can lead to severe consequences, such as warnings, traffic tickets, Negligent Operator Treatment System (NOTS), Compliance, Safety, and Accountability (CSA) points, and Out-of-Service (OOS) Orders or suspensions by state and federal authorities.
"Sometimes when I have a mountain of paperwork, I dream of how many paper planes I can make." ― Anthony T. Hincks
Almost every action taken by a CDL holder must be recorded, starting with their application for a CDL. Likewise, practically every item sitting on retail store shelves has had a CMV driver do some type of paperwork to get it there. Having correct paperwork is imperative for CDL holders. Gone are the days when you could just get in your truck and drive.
Below is a list of possible violations of the Federal Motor Carrier Safety Regulations (FMCSR) that can get a commercial motor vehicle (CMV) driver assessed NOTS and CSA points for not having the right paperwork. Many of these, especially "form and manner" violations are only one point, but with time-weights could be much more. CSA points are weighted for severity and time. The CSA assesses a second violation within a six-month window multiplied by three. Therefore, a one-point violation becomes three and a ten-point violation, 30.
This system employs a threshold of points to assess a percentile between 1-100. Drivers and carriers between 1-49 points are safe from intervention measures, but 50-74 points gets an optional inspection recommendation, and those with 75-100 points receive a recommendation for inspection or intervention. The system uses these numbers to predict the probability of future collisions based on previous violations.
CSA Points for Paperwork:
10 CSA Points
Operating while under an OOS Order depending on the original violation/s
8 Points
Unqualified CMV driver
No CDL
More than 1 CDL
Driving solo with a learner's permit
Improper CDL endorsement or classification (school bus, HazMat, etc.)
7 Points
6 Points
Failure to notify employer of conviction within 30 days (DL Form 535)
5 Points
No reconstructed logs when an ELD fails
Record of Duty Status (RODS) incorrect, missing, or not up-to-date
Log not current or complete
Any portion of the previous logs for 7 days missing
Scheduling a route and deadline that requires speeding
4 Points
Driver Vehicle Inspection Report (DVIR) missing or incomplete
Driver or Mechanic's signature missing on DVIR
1 or 2 Point/s
Incorrect form and manner information
No medical card in possession
No medical waiver
These are just a few of the paperwork-related issues that a driver could get assessed CSA points for violating. There are no less than 25 form and manner violations alone. Too many CSA points can lead to a carrier's voluntary operation Safety Plan, a Notice of Violation (NOV), a Notice of Claim (NOC), more roadside inspections, interventions, and OOS orders from the Safety Measurement System (SMS) branch of the FMCSA. Likewise, too many NOTS points can get a suspension/probation order from the CA DMV.
An NOV is a formal safety alert to the carrier. They must reply with what measures they will take to correct their safety performance. There are no fines or penalties involved if the carrier adheres to their plan. An NOC is issued for severe safety irregularities during inspection and could lead to fines. An OOS order for carrier or driver leads to a suspension of driving operations until the safety violations get fixed or for a specific period. For instance, a driver having two serious violations within a three-year period would get an OOS order for 60-days.
Any sanctions or interventions can be challenged on the DataQ website. However, getting CSA points removed from your FMCSA Pre-Employment Screening Program (PSP) will not change your motor vehicle driving record (MVR) maintained by CA DMV or remove NOTS points assessed by the DMV. You might be required to schedule a DMV Hearing to remove erroneous NOTS points if writing to the DMV does not get incorrect entries removed. Call or write the DMV to request a hearing here. Although having an attorney is not required and will not be paid for by the state, it is recommended as traffic ticket attorneys represent clients at these hearings quite often and are well-versed in traffic law and the appeal process, if the hearing does not go in your favor.
NOTS Points for CMV Drivers
CDL holders convicted of violations in their CMV receive 50 percent more NOTS points than non-commercial drivers. Therefore, a one-point violation is 1.5, and a two-point violation gets assessed 3 NOTS points. A CMV driver can also get an increase in leeway for assessed points before a suspension/probation order via a DMV hearing when the miles that have been driven warrant it. Once again, you must request a DMV hearing to present your evidence.
HazMat and explosive haulers face the most serious NOTS violations and fines for paperwork convictions. For example, a conviction for missing or incorrect maps is a misdemeanor with a possible fine of $4,175.00 and not having the correct endorsement is three NOTS points, according to CVC 31602 (a-c) & CVC 31611, Transportation of Explosives.
All CDL holders with paperwork violations should consult with a traffic ticket attorney before deciding on a course of action.
Traffic Ticket Attorneys Who Practice In Kings County
Call Bigger & Harman, (661) 349-9300, when you need assistance with a ticket for any moving traffic violation, or when you have a scheduled DMV Hearing. Se habla Español 661.349.9755. Bigger & Harman only represent clients for traffic ticket violations and charge a fixed rate to resolve the ticket or represent you at a DMV Hearing.
Send us an email to attorney@markbigger.com, with the details of your situation. We will reply with a suggested course of action.
Check out our Facebook page for traffic law updates, links to full-length articles, and tips to prevent traffic tickets.
Read our bio and get license information on Avvo, Nolo, or Yelp where you can also find our clients' comments and feedback.
References:
The 2018 CA Commercial Driver Handbook .pdf
Thebalance.com A Guide to CSA Point Values and Transportation
The DMV.CA.GOV portal
The 2018 Judicial Council of California's Uniform Bail & Penalty Schedule