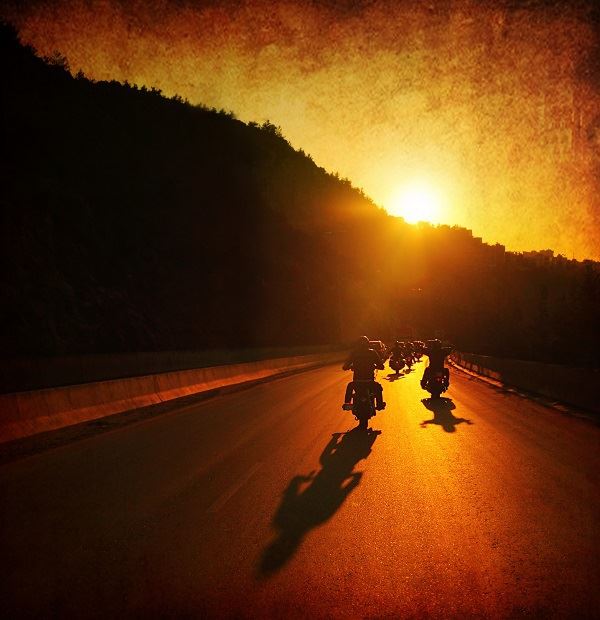 One obvious benefit of motorcycle lane splitting is that it allows motorcycles to continue moving and not contribute to the traffic jam. In addition, since fewer motorcycles are sitting idling their engines, there are fewer emissions. When motorcycles spend less time sitting still, the airflow helps keep their bike's engine cooler and avoids wasting gas.
Assembly Bill (AB) 51, Motorcycle Lane Splitting
AB 51, signed 19 August 2016 by CA Governor Brown became CA Vehicle Code (CVC) 21658.1 on 1 January 2017. This addition to the code authorizes two-wheeled motorcycle lane splitting, a practice widely used for years by motorcyclists to pass stopped and slow-moving vehicles in traffic jams. CA is one of the first states to enact such a law.
Many law enforcement officers (LEO) misinterpret lane splitting for an unsafe lane change. The verbiage in CVC 21658, Driving on Right Side, states "A vehicle shall be driven as nearly as practical within a single lane…" Or, the LEO might believe that your lane splitting violated CVC 22107, Turning and Stopping and Turning Signals, which states that movements left or right must be "made with reasonable safety" and after signaling. Whatever the case might be, motorcycle lane splitting is legal if done within the established standards If it was not done properly, is up to the court to decide.
DMV & CHP "General Guidelines for Motorcycle Lane Splitting"
Since lane splitting's legalization, a CA court ordered the CHP and the DMV to take down their general guidelines. Most of the instructions and suggestions produced by these two agencies were common sense rules. These suggestions included: never lane split where you can't fit; when traffic is moving more than 30 mph; at toll booths; close to entry and exit ramps; or between trucks, RV, buses, or anyplace it may be difficult to see you.
Likewise, there were advisements for other vehicles to respect the legal rights of motorcycle lane splitting. They reminded those drivers that CVC 22517, Stopping, Standing, and Parking prohibits a driver from opening the door to impede lane splitting or any other reason where it is unsafe. Additionally, CVC 22400, Other Speed Laws makes it illegal to drive so slow to block or impede traffic, or bring a vehicle to a sudden stop unless it is warranted by traffic or safety.
Motorcycle lane splitting can be beneficial to all drivers if done reasonably and prudently. Lane splitting is legal, but impeding a motorcycle from making a legal maneuver is not. When you receive a ticket for lane splitting you should consult an attorney.
Consult a Traffic Ticket Defender Who Practices Regularly In Fresno County
Bigger & Harman serve the people of Central Valley as traffic ticket attorneys who practice only traffic law. Call Bigger & Harman, (661) 349-9300, when you receive a traffic ticket for an unsafe lane change that was actually motorcycle lane splitting.
You can find other subjects and legal guidance on the Bigger & Harman Facebook page. Also, read reviews and feedback left by Bigger & Harman clients on Avvo, Nolo, or Yelp.
Bigger & Harman practice regularly in Fresno County traffic court; in fact, they only practice traffic law. Why is that important? Traffic court is unlike any other courtroom experience. Due to the many traffic citations, particularly in big cities and along I-5 and SR-99, the courts have many cases to go through in a day. Call or email, attorney@biggerharmanlaw.com, for an explanation of what we can do for you.
Se habla Español 661.349.9755.
References
CA Vehicle Code (CVC) 21658.1, Motorcycle Lane Splitting
CVC 22107, Turning and Stopping and Turning Signals
CVC 22517, Stopping, Standing, and Parking
CVC 22400, Other Speed Laws