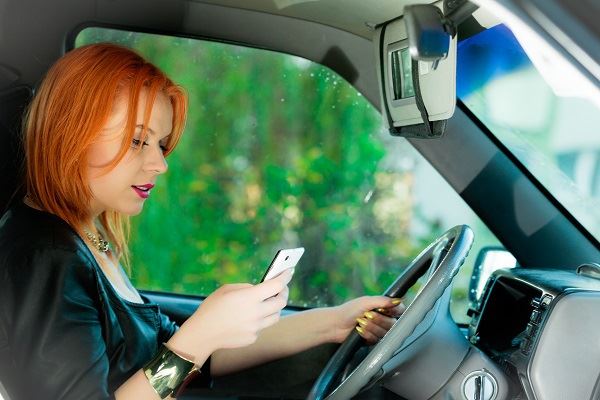 Although those with a commercial driver's license (CDL) do not get a cell phone ticket nearly as often as their non-commercial driving peers, when they do, they must fight it as vigorously as any other ticket. Even though a cell phone ticket is not a moving violation, a CDL holder must report traffic convictions to their employer within 30 days. Many employers are so worried about their fleet insurance going up that any violation of traffic laws or CA Vehicle Code (CVC) could result in a termination of employment because of these employer's or fleet manager's zero-tolerance mentality.
Another consideration might be those with electronic logging device (ELD) software on their phones. When sitting in traffic if they pick up the phone to check their log, they may get a cell phone ticket. Even though the CVC states, "holding and operating," the law enforcement officer (LEO) might not attempt to find out if you were actually using the device; just picking up the phone could be enough for a cell phone ticket.
Some ELD software for smartphones has a built-in notification to warn the driver when they are approaching a mandatory break in their Hours of Service. Both the Logbook section of CVC 34500, Safety Regulations and CVC 23123.5, Driving Offenses, though better known as theDistracted Driver Law mandate that the smartphone must be in a dashboard-mounted device or part of the vehicle's communication or stereo system so that it is hands-free or a swipe of the finger is all that is needed to start voice recognition and command. This is often also true for GPS software on smartphones.
Those rookie drivers who get a cell phone ticket might not even think to report the violation to their employer because it's a non-moving violation. They might just pay the fine and go on about their business. Though a first-offense is supposed to be $20, with the state and county surcharges, assessments, and fees it will be around $160, and a second-offense is almost $250, it still might not trigger an alert to the inexperienced CDL holder to tell their employer about the ticket.
However, the rookie driver just might be called into fleet management to explain the cell phone ticket on the anniversary of their enrollment in EPN. The EPN is a system maintained by the DMV according to CVC 1801.1 to provide employers with a tracking method of a driver's record and actions taken by use of a requestor code.
Once the employer enrolls a driver, the system will automatically generate a notice to the employer when any of the following occur:
1. The anniversary of enrollment
2. Convictions or accidents
3. Failure to Appear (FTA)
4. Suspension/Revocations
5. Or, any action taken against driving privileges
Enrollment is required for all Class A, B, and C drivers and charter drivers of more than ten passengers. Therefore, a CDL holder who receives a ticket should seek legal advice from a traffic ticket attorney.
Consult a Central Valley Ticket Attorney
A cell phone ticket might seem inconsequential to many drivers, but a CDL holder knows that any ticket could result in employment termination. That's why you rarely hear of a trucker getting a ticket for cell phone use, that and the fact that the short-wave radio is their preferred communication device. Call Bigger & Harman for a free consultation, 661-349-9300, or send an email: attorney@markbigger.com.
Mark Turner wrote on their Facebook page, "I want to thank Paul Harman for the excellent job he did handling my traffic citation. He was courteous, professional and kept me informed every step of the way. It was a great experience and he was able to get my citation reduced from a moving to a non moving no point violation, and as a CDL holder my livelihood depends on my license. I was very happy with the outcome and my decision to use Bigger & Harman and would highly recommend them to anyone in need of traffic defense."
When you're looking for a traffic ticket attorney, look no further than Bigger & Harman of Bakersfield, the traffic defense team many truckers trust. Read comments left by their clients on Avvo or Yelp. Avvo is one of the preeminent legal websites in America.
Se habla Español 661.349.9755.