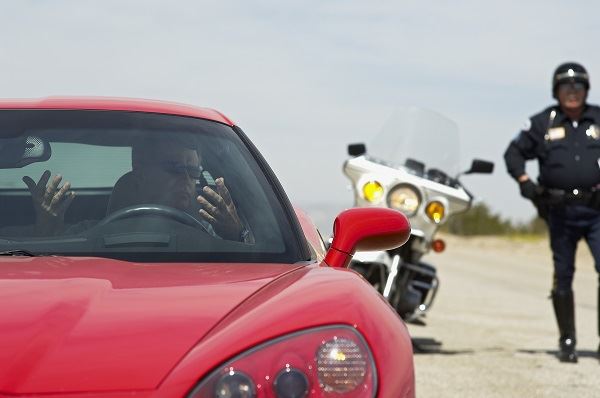 When you receive a non-resident traffic ticket in Mono County, if you have a mandatory court appearance, you will need to return to Mono County to resolve the ticket or hire a traffic ticket attorney to represent you. This is not an anomaly to Mono County. Statewide counties reserve jurisdiction to prosecute major infractions, misdemeanors, and felony violations of the CA Vehicle Code.
Mono County just happens to be filled to overflowing with natural beauty, and state and National Parks (NP) to visit. Of course, no visitor to the state of CA should miss Yosemite NP, Bodie State Park (a gold miner's "ghost" town), the hot springs, or Devils Postpile Nat'l Monument (a unique rock formation of basalt in adjacent vertical columns). Likewise, there are several "must see" areas of interest in neighboring Inyo County. It's no surprise that residents from Nevada and LA frequently visit the area. Additionally, many travel to the area to see Death Valley, Mount Whitney, the highest peak in the continental US, or to ski in the Mammoth Lakes area.
Avoid a Non-Resident Traffic Ticket
When you drive along I-395, you can see Sierra Nevada Mountains, the Inyo and White Mountains and many outdoor recreation areas while driving north or south. But, don't let "Mother Nature" distract you while you're driving and cause you to forget to check your speedometer.
Many of the highways and secondary roads have severe grades and reduced speed limits. The highways even have reduced speed limits passing through cities and towns. Plus, CA law deviates from most other states in that the speed limit for vehicles with three axles or more, including trucks and cars hauling RVs, ATVs, or motorcycles on trailers, are limited to 55 mph statewide and allow the state Department of Transportation (Caltrans) to designate lanes for slow traffic.
You don't want a non-resident ticket to take home from Yosemite or Death Valley. The state of CA participates in the Non-Resident Violator Compact (NRVC) and the Driver's License Compact (DLC). The Mono County DMV will notify your state when you fail to appear (FTA) in Bridgeport or Mammoth traffic court to resolve your ticket.
The DLC & NRVC Impact on a Non-Resident Traffic Ticket
The DLC and NRVC are agreements between member states to notify each other when a resident of another state has a ticket in CA. A national alliance exists whereby member states are compelled to report non-resident traffic tickets to the home state of those who FTA, pay their fine, and those convicted on serious traffic offenses . You could be "found guilty in absentia," an additional infraction or misdemeanor offense could be added, a civil penalty added, and a bench warrant issued depending on the offense. It is up to the DMV in the home state to assess points or notify insurance companies of those convictions.
Ignoring the ticket will not make it go away. Every county in CA employs a bill collection agency, and failure to pay (FTP) will result in a negative report sent to the credit agencies. When you do not pay within a specified timeframe, a civil penalty of $300 will get added to the fine along with the late payment penalty, which is authorized by Penal Code 1214.1.
Most minor traffic infractions can be resolved by paying online at the Mono County Superior Court website, which covers both Mammoth Lakes and Bridgeport Traffic Courts. However, if you are close to your maximum points allowed before suspension in your state, you may want to fight your ticket here in CA. Even with a mandatory appearance, it will not necessarily require your presence. Instead of chancing a scar on your credit and driving record, consult a traffic ticket attorney before you go home.
Traffic Attorney in Mono County
When you receive a non-resident traffic ticket in Mono County, do what many of the locals do, and call Bigger & Harman, (661) 349-9300. Bigger & Harman practice only traffic law, so they are familiar with CA traffic code and the elements of the law the state must prove to find you guilty of a traffic violation. They know how judges have ruled in previous cases that set a precedence for your case. If they agree to represent you, you do not have to go to court.
Bigger & Harman, located in Bakersfield, CA, regularly practice law in Mono County Traffic Court. If you don't handle things before going home, you can always email the details of your circumstances to attorney@biggerharmanlaw.com. They will send a reply detailing your options.
Check their Avvo and Nolo pages for license information, peer endorsements, and client reviews. You can also read some of the 85 mainly positive reviews on Yelp. We can't promise you a dismissal or fine reduction on every case, but we will promise our best effort, every time.
Se habla Español 661.349.9755.
References
The US DOT Non-Resident Violators Compact .pdf dated April 1994
The Traffic Resource Center for Judges Driver's License Compact .pdf, dated October 2015
The DMV.CA.GOV 2018 CA Driver's Handbook