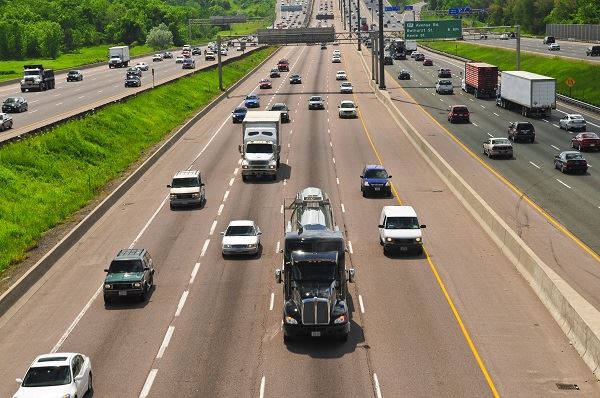 Besides speeding, unsafe lane change tickets are the most frequently written highway tickets. Very often an unsafe lane change can be subjective, it is a judgment call on the part of the law enforcement officer (LEO) that tickets you what is safe and what is unsafe. Before you just accept the LEO's judgment and pay the fine, be sure the "unsafe lane change" wasn't to avoid hitting another vehicle, pedestrian, or animal on the roadway.
It is a violation of CA Vehicle Code (CVC) 22107, Turning, Stopping and Turning Signals to move from your lane without first ensuring that it is reasonably safe to do so and signaling your intent before making the move. The base fine is $35, though the total fine after state and county surcharges, assessments, and penalties will be between $230 and $250 and a conviction will be assessed one Negligent Operator Treatment System point. Depending on your status, you may be able to hide the conviction from your insurance company by attending traffic school.
Unsafe Lane Change on Highway 395
Suppose you're driving at or near the speed limit on I-395 in Inyo County around Independence and a coyote or some other animal runs out into the road in front of you, you would have very little time to react and might swerve into the other lane to avoid hitting the animal. An officer going in the same direction two or three cars back, might not see the animal, but he saw another vehicle hit the brakes because he saw their brake lights come on and pulled you over for an unsafe lane change. Your actions may have been unsafe, but your instinctive swerve to avoid hitting the animal might be judged justifiable.
Likewise, changing lanes abruptly to avoid a vehicle that is coming onto the highway from the entrance ramp might be unsafe without signaling your intention, but it may have been the safest thing to do at the time. Changing lanes to avoid a merging vehicle that you thought might hit you is reasonable and although unsafe, it is acceptable behavior given the circumstances. You could certainly justify not signaling because you did not have time.
Another understandable unsafe lane change, if it is true, might be because you thought you would pass out or had sharp chest pains. Moving to the right across lanes without signaling would be understandable if you felt like you would pass out or your chest might explode. Passing out or suffering a heart attack while driving in heavy traffic could be far worse than moving over without signaling.
Independence Traffic Court
If you have lost your ticket or it has been awhile since you were ticketed or failed to appear in court to resolve your ticket for an unsafe lane change or other infractions or misdemeanors and you're no longer sure of the details but you realize it is time to set things right and get your driver's license back, the county court is a good place to start.
You can find a lot of information about the Inyo County Courthouse hours and how to pay tickets on their website. If you need information about how to pay a ticket, click on Payment of Fines on the left-hand side of the page. You will have to register and login. Or, you could speak to the county clerk in person, the Courthouse is at 168 North Edwards Street and in Bishop, it is at 301 West Line Street, or you can call (760) 872-3038 between 1:00 and 2:00 pm Monday to Friday for traffic ticket concerns. The walk-in window is open according to the schedule here.
Regardless of your traffic ticket or driver's license status, you should get advice and counsel from a local traffic ticket attorney before you pay past due fines or attempt to resolve an FTA. If you failed to appear in court, there might be a bench warrant for your arrest depending on the severity of your traffic ticket or accident. It would be best to have a traffic ticket attorney investigate it for you before you proceed.
Hire a Local Inyo County Ticket Lawyer
If you were ticketed for a questionable unsafe lane change or have another traffic ticket issue, consider Bigger & Harman. Mark Bigger and Paul Harman make up the legal team of Bigger & Harman, ticket defenders, who represent clients in Central Valley traffic courts in Inyo, Tulare, Kings, Mono, Kern, and Fresno, plus some counties in Southern California, such as San Bernardino, SLO, Riverside, and Los Angeles counties in SoCal. Those traffic courts are in Independence, Bishop, Porterville, Lamont, Visalia, Hanford, Bridgeport, Shafter, Barstow, Bakersfield, and many other major cities in Central and Southern California.
Call Bigger & Harman, 661-349-9300, or email: attorney@markbigger.com when you need legal advice or counsel or would like a traffic ticket attorney to represent you in court. For a completely confidential and convenient appointment, you can use the website contact form.
Read the write-up on Nolo.com or check their reviews on Yelp to discover what family, friends, and neighbors have said about Bigger & Harman, a Central Valley traffic ticket legal team.
Se habla Español 661.349.9755.