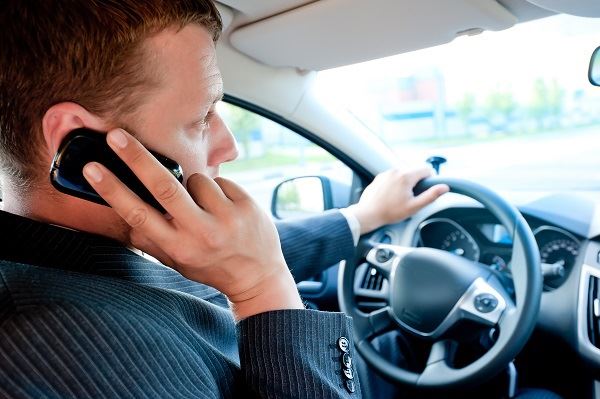 In 2016, the California Legislature enacted a new cell phone law. Before you pick up your cell phone to text or make a call, you should get familiar with the Assembly Bill that restricts cell phone usage while driving. The new mobile phone law is known as AB-1785 and now CA Vehicle Code (CVC) 23123.5, Use of Communication Devices while Driving.
CA Assembly Bill (AB) 1785
CA Governor Jerry Brown signed AB-1785 into law on 26 September 2016, restricting the use of a cell phone while driving and it took effect on January 1, 2017. The law prohibits "distracted driving." This law makes it illegal for a driver to "hold or operate" a mobile phone or other communications device for any reason while operating a vehicle.
However, the law is not without exceptions, and should you find that you receive a cell phone ticket, it's equally important to understand the exceptions in AB-1785, For example, when a phone gets mounted on a windshield or dashboard, it is acceptable to use a cell phone when the action only requires a single swipe or tap of a driver's finger. In addition, you may use a cell phone or other communications device while driving in case of an emergency.
CVC 23123.5, & Cell Phone Tickets
There is a notable difference in the utilization of a cell phone needed for texting, making or receiving a call versus the use of a mobile phone required to utilize a navigation app for directions, and the exception to the new law is a legal attempt to acknowledge this distinction. Nonetheless, it's not without a caveat and that means even a single swipe or tap action requires that the device must be mounted or part of the vehicles in-system devices.
Additionally, the exception, which allows for a single finger swipe or tap when a cell device gets attached to the windshield or dashboard, allows drivers to make or respond to calls and texts, so long as drivers utilize the hands-free function of a device.
CA drivers who violate the new cell phone law could receive a cell phone ticket just for picking up the phone while driving. Although a first-time offender will receive a $20 base fine, the actual cost of the ticket will be around $150 and subsequent convictions will cost closer to $250. Therefore, carefully consider utilizing the hands-free function of your cell phone, and securely attach your device before driving to avoid a citation.
Mount the Phone on the Dashboard to Avoid a Cell Phone Ticket
Go to one of those outlet stores in the mall and buy a $15-20 mounting device and put your phone in it before you start driving. The intent of the AB-1785 and CVC 23123.5 is not to prevent the driver from using communication devices and the benefit provided by smartphones including GPS direct-finder, but to make CA roadways safer through conscientious use of such devices and that is hands-free.
Another exception to the new law is that anyone 18 years old or younger cannot use even a hands-free device without risking a cell phone ticket. The new law makes it illegal for a driver 18 or under to use a cell phone while driving. The thought is these inexperienced drivers should devote 100 percent of their attention to driving.
However, you should always consult a traffic ticket attorney before deciding to just pay the fine. What's more, Bigger & Harman provide a FREE phone consultation, so you can just call and they will give you a straightforward answer, pay the fine or fight the ticket.
Hire a Central Valley Attorney
If you are considering fighting a cell phone ticket or you're scheduled to appear in court for a traffic ticket in Bakersfield or any Central Valley court, call Bigger & Harman to receive a free, no obligation phone consultation. Bigger & Harman are traffic ticket defenders who practice throughout Central Valley and a few SoCal locations, such as Los Angeles, Riverside, SLO, and San Bernardino.
Although their main office is in Kern County, they represent traffic ticket clients in Hanford, Barstow, Santa Clarita, LA, Fresno, Porterville, Independence and many more. Bigger & Harman have a good reputation with the judges, court clerks, and law enforcement as tough courtroom lawyers, but more importantly with their clients, which includes many of the truckers who haul our country's manufactured and agricultural goods to market.
Call Bigger & Harman, 661-349-9300 to discuss your situation or email: attorney@markbigger.com
Read their Nolo.com write-up, Nolo is the nation's largest online digest of legal professionals. In addition, you should check the comments on Yelp to get a clearer picture of who these guys are and how proud they are of their reputation of excellence in serving CA drivers.
Se habla Español 661.349.9755.