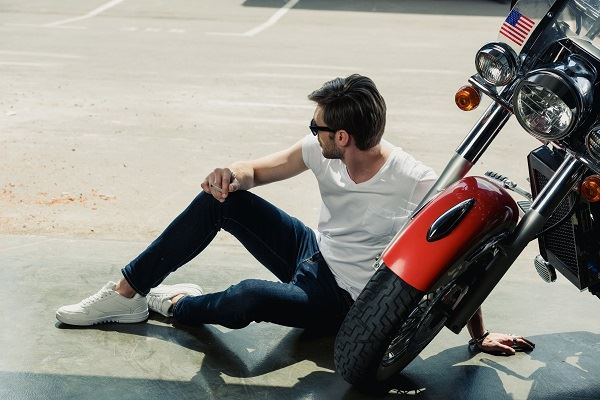 The purpose of this blog post is to provide information to our readers regarding CA Assembley Bill (AB) 1027, Driver's Licensing and Examinations for Motorcycles proposed by Assembly Member Acosta, which was approved and will take effect 1 September 2017. CA AB 1027 amends CA Vehicle Code (CVC) Section 12804.9, Issuance of Licenses. CA AB 1027 amends or changes which motorcycle training program certification will be accepted by the Department of Motor Vehicles (DMV) and what standards motorcycle licensing should target, such as, understanding of CA traffic code, knowledge of simple English to read traffic signs and signals, and a test of the drivers' ability.
CA Assembly Bill (AB) 1027, Driver's Licensing and Examinations for Motorcycles
According to California law, when an individual applies for an original driver's license, an examination of the applicant is required by the Department of Motor Vehicles (DMV). Although student licenses are excluded, this law includes the issuance of a motorcycle license. The understanding and knowledge of the applicant will be tested regarding CA Vehicle Code provisions. This bill outlines all the requirements, restrictions, and expectations of any individual in possession of an M1 or M2 license. This includes the ability to understand traffic signals, and signs, the ability of the applicant to retain control of the vehicle, a test of the individual's eyesight, and hearing, and a valid medical report, which is less than two-years-old, and issued by a medical professional.
How Does It Affect Motorcycle Training Programs?
The CA AB 1027 additionally states approved motorcycle training programs require a certificate of completion for all motorcycle license applications. For all individuals, less than 21 years of age, a class M1, or M2 license will not be issued without an approved motorcycle training program completion. This is in accordance with the existing California law. The department is authorized by the bill to accept an approved (novice) motorcyclist training program, provided the applicant has satisfactorily completed the program. This is in lieu of completing a driving test for applications for a motorcycle license. The CA AB 1027 requires all individuals less than 21 years of age to complete this program before a motorcycle license, or endorsement is issued.
Kings County Courthouse
The licensing laws in California are designed to ensure the protection of the drivers, and the passengers of all vehicles on the roads and highways. Failure to follow these laws can result in fines, Negligent Operator Treatment System points, and license suspension. Additionally, it is a misdemeanor offense to drive any vehicle on CA roadways without a valid driver's license.
The Kings County Courthouse is open Monday through Thursday from 8:00 a.m. until 4:00 p.m. Friday hours are from 8:00 a.m. until 11:30 a.m. Tickets may be paid at the website online, through a secure process. All individuals attending traffic court will be notified in advance as to the time, day, and date of their appearance.
Hire the Central Valley Legal Team of Bigger & Harman
When you receive a ticket for driving without a motorcycle license or other traffic violation, consult Bigger & Harman, a local traffic ticket law firm. Bigger & Harman represent clients who have been ticketed on CA's roadways in traffic court throughout Central Valley, in LA, Riverside, and Barstow to name a few. Not all tickets are worth the expense of fighting in court; however, it is always wise to consult a traffic ticket attorney before deciding to just pay the fine. Many times, the price of the fine and increased insurance premiums versus the price of an attorney are about equal, except, if you just pay the fine, there is no chance of a dismissal or reduction of charges.

Call Bigger & Harman, 661-349-9300 to discuss your situation or email: attorney@markbigger.com

Read their Nolo.com write-up, Nolo is the nation's largest online digest of legal professionals. You don't need to take our word for it, see what other truckers are saying about the service they received from us in the comments on Yelp.

Se habla Español 661.349.9755.