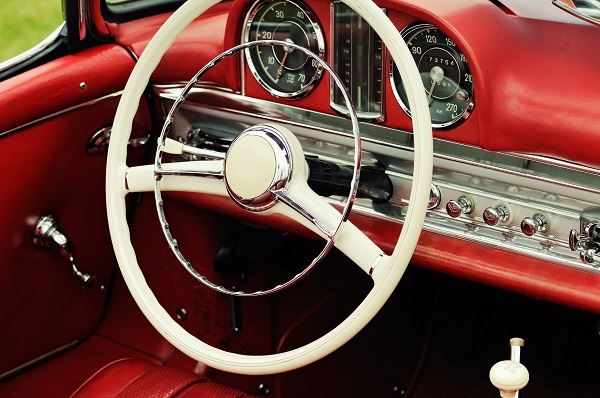 Although many people think there aren't many law enforcement officers (LEO) patrolling Mono County to hand out tickets to speeders, there is a good deal more than you would expect. Highway 395 running the length of the Eastern Sierra Nevada Valley gets most of the attention from the county's LEOs.
From Bakersfield to Hot Springs in Mono County
Though Bakersfield is a fast-growing town, there isn't much to do to impress a new girlfriend. Yeah, there are malls and great restaurants, but not much in the way of activities that will provide the type of lifetime memory I wanted to show her on our first date out since I'd been off to college.
I was home from my first year at Fresno State, and unlike many of my old high school friends, I managed to keep my girlfriend until classes were over. She was really something special, and I had time and a little cash. I finally asked my father for some advice on where to go and what to do.
Hot Advice from Dad about Hot Springs
He told me that back in the 70s, he and my mother would go up to Whitmore Hot Springs in Mono County. It was a lot like the Salton Sea, but without the hydrogen sulfide pollution, druggies, or gangs. That was it! My girlfriend agreed to go, and my father gave me a surprise. He thought that since I was taking his advice, I might as well take the trip the right way. To my surprise he let me borrow his cherry red 65' Mustang. It was the same car he drove way back when.
We left on a Friday morning. Good thing, the valley was getting hot. Though driving closer to Death Valley, it would be even hotter, there would be far less humidity. And, of course, we could always drop the top to cool off and that's exactly what we did.
It's not such a bad drive around the Sierras and north on 395. In fact, it's almost too perfect. Once a person gets north of Bishop and Round Valley, the highway seems empty. I guess the hot car, the hot date, and the idea of spending the afternoon at the hot springs with this girl made my foot a little heavier and that's when the romance takes over. No, not girlfriend romance, but the allure of speed on the open road. Like an idiot, I started really feeling the power of the high gears in that pristine Ford engine. Without really noticing, I increased from a comfortable and legal 65 mph to just over 100 mph. Who wouldn't? People who don't want a ticket, that's who. I must admit now, that I was really stupid.
The Hot Date Interrupted
It didn't take long before the romance was interrupted. Against the awesome colors of the distant mountains, I noticed flashing lights in the rear-view mirror. He was probably the only California Highway Patrol (CHP) officer in Mono County that day. The only one that mattered to me anyway. I quickly slowed and pulled over to the right shoulder. The officer cautiously approached the car.
The officer surprised me when he said that people speed like I did far too often in that area. But, he quickly added that most only do it once, unless they have a lot of money. He noticed the make of the car and who I had with me. He informed me that although he understood the situation, he could not agree with my decision to speed, especially over 100 mph. As he handed me my ticket, he added that I would need to appear in court at Mammoth Lakes.
A Beautiful New Courthouse, but Too Hot Inside
The courthouse at Mammoth Lakes is a sight to see on the inside, but really heats up with a couple dozen or so people waiting for their turn to convince the judge they were "just keeping up with traffic" or their speedometer must be broken.
I had to go to a mandatory court hearing and the basic fine was $550 for going over 100 mph; however, once the state and county assessments were added it was over $1000. Additionally, the judge made me pay an extra $100 for each mile over 100 mph and couple hundred dollars in court and processing fees. He suspended my license for 30 days, and the DMV assessed two points on my driver's license, which I couldn't keep from my insurance company by going to traffic school, as it isn't possible for this violation.
The LEO said I was lucky this was my first speeding ticket, or I could have been out as much as $3,000. Later, when I finally got up enough nerve to tell my father what happened, he told me that since I am under 30 and male, my insurance premium will likely double or triple when it comes up for renewal. Now I wish I would have hired a traffic lawyer because I will likely be paying through the nose for insurance for the next seven years, but I wouldn't have known where to start looking for a good traffic lawyer and I didn't dare tell my father at that time that I was ticketed for speeding over 100 mph in his 'Stang. He would have killed me. Or, so I thought then, turns out he was a lot more understanding than I thought and just said, "We were all young once and had a hot car, a hot date, and a heavy foot on the gas pedal."
The ticket really cooled our trip to the hot springs, but we still had a good time, though at a much slower pace for the rest of the weekend. I guess this experience is going to add to my story of being a typical poor college student, particularly the "poor" part.
Hire a Central Valley Traffic Ticket Lawyer
Although Bigger & Harman have their main office in Bakersfield in Kern County, they represent clients with traffic tickets in Mono County and across Central Valley. Bigger & Harman practice only traffic law in traffic courts in Mammoth Lakes and Bridgeport in Mono and other cities like Lamont, Independence, Shafter, Barstow, and others. Before you just pay your fine or go to traffic court and represent yourself, consider that the price of a good traffic ticket lawyer is undoubtedly less expensive over the course of the three to seven years of increased insurance premiums. But, there's also a good likelihood that the LEO won't show up for court or another technicality will get your ticket dismissed or you'll be able to plead to a lesser charge with no points.
Get straight answer about your ticket, call Bigger & Harman, 661-349-9300 to ask about your circumstances or email: attorney@markbigger.com
Read their Nolo.com write-up, Nolo is the nation's largest online digest of legal professionals. In addition, you should check the comments on Yelp to get a clearer image of who these guys are and how pleased they are to serve California drivers.
Se habla Español 661.349.9755.