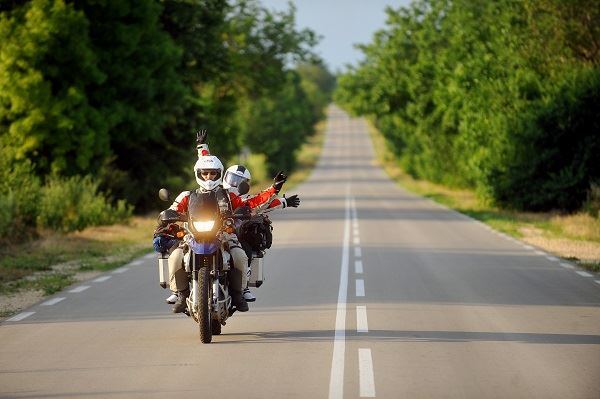 In August 2016, California passed a bill legalizing lane splitting by motorcyclists when traffic conditions allow for safely doing so. This article will define lane splitting, discuss the perceived, as well as real world issues a motorcyclist might face and offer tried and true tips on navigating this new law and who to turn to if you slip up and violate CA Vehicle Codes and get ticketed.
How Does Lane Splitting Work?
Lane splitting, also known as lane sharing, white-lining, or filtering, is not a new practice. Riders all over the world have been doing it for years. The standard lane width in the United States is twelve feet. The average car on the road these days comes in around six and a half feet wide, with an average semi-truck measuring eight feet across at motorcycle height. This allows for a margin of four to five and a half feet of unused lane.
An experienced biker can safely navigate through this margin, improving traffic flow, and reducing congestion. Often lane sharing is utilized when traffic is stopped at a red light or more often in California, a traffic jam. The motorcyclist uses the extra space alongside stopped traffic to advance to the front of the line, then proceeds with the normal flow of traffic.
Impeding Lane Splitting and Safety
As with the operation of any motor vehicle, there is a certain amount of risk involved, even when done cautiously and legally. Here are a few tips to keep in mind should you decide lane sharing is a safe and viable option for current traffic conditions. Take it slow, no more than ten mph above the cars you are passing and no faster than 30 mph at any time while lane sharing, regardless of conditions. Be extra vigilant. In most cases the other drivers will not be expecting you to drive in the lane they are currently occupying; therefore, you must anticipate what the drivers around you are most likely to do.
Many drivers will try to squeeze to one side of the lane or another, either to facilitate your safe passage or to try and block your path. You must be ready to react instantly while maintaining focus on where you want to end up, as well as what the drivers surrounding you are doing. You may have heard stories of drivers opening their car doors to stop or impede motorcyclists, while such an action is indeed hazardous, it is also illegal in CA. According to CVC 22517, "No person shall open the door of a vehicle on the side available to moving traffic…"
Once you begin lane sharing, do not linger in another vehicle's blind spot. Either keep moving forward or merge back into the lane and wait for another opportunity. Never assume the other drivers know what you are doing. Whenever possible try to make eye contact in the rear-view mirror with the drivers of the cars you are passing. Do not rely on loud pipes or bright helmets to announce your presence and always be ready to move out of the way.
Kern County, CA
If you happen to reside or work in Kern County, home of Edwards Air Force Base, then you have experienced firsthand the congestion and delays on I-15 and perhaps I-5 in California. Lane sharing offers a simple solution to increase traffic flow at no cost to the taxpayers, utilizing resources already in place. However, many drivers are unfamiliar with the practice and like anything new, are reluctant to try it. Meanwhile, the residents of Kern County and the county seat of Bakersfield are fortunate to have Bigger & Harman, a traffic ticket law firm that provides a free initial phone consultation, to help navigate these and any other changes to California driving laws.
In conclusion, remember these three things, lane sharing is legal, only experienced riders should attempt lane sharing while driving more than 10 or 15 mph, and Bigger & Harman are here to help you with any problems you might encounter under this new law in Kern, Kings, Tulare, Inyo, Mono, and other Central Valley counties.
Hire a Kern County Lawyer
Check the Yelp reviews and see what your friends and neighbors are saying about Bigger & Harman. Such as this: "Got a speeding ticket on a road trip, and found these guys online, read the reviews and called them. They were very clear and friendly in their communication and I felt good to take a chance on fighting the ticket. After the process was over, they got my ticket dismissed." - Geoffrey M., Los Angeles.

When you need assistance with an unsafe lane splitting ticket in Bakersfield, Bishop, Lamont, Shafter, or another Central Valley county traffic court, call an expert team of professionals. Call the law office of Bigger & Harman, 661-349-9300, or email: attorney@markbigger.com. For more information on this new law read the CHP's brochure.

En español, llame al 661-349-9755.

Happy motoring and stay Safe.