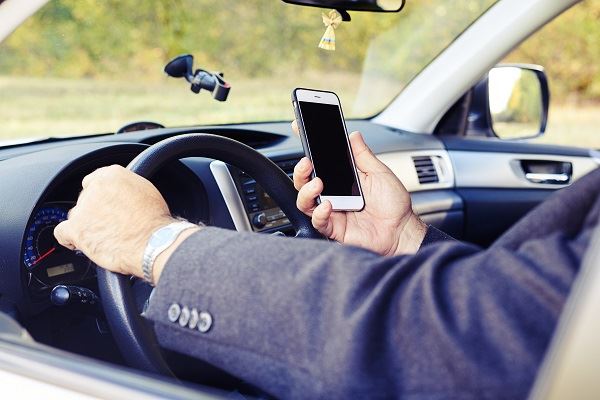 Speeding on I-5 almost always requires time spent in traffic court, and is accompanied by large fine and penalties. This is especially shocking for visitors who previously didn't know or forgot how exorbitant the price of a ticket can be here.
My Business Trip from LA to San Francisco Took a Detour
It's not often that I can combine business and pleasure. Our staff's latest trip to California did provide time and a route that made some fun possible. We had to make it from Los Angeles International Airport (LAX) to San Francisco driving in a nice Mercedes van. That trip takes about six hours with no stops, so we arrived a day ahead of schedule to stop at one mutually attractive hotspot. Just west of Santa Clarita is the world-famous Six Flags Magic Mountain theme park. No one on our staff had been there before, and we thought it would be a great diversion to counter the rather boring nature of our visit to the San Francisco office.
Unfortunately, driving wide-eyed on I-5 in search of a theme park tends to enliven that old child-like spirit. As the driver, I was the last person to expect that seeking a little fun would result in an expensive fine. The architects of the theme park did a great job of building the campus to be visible from miles away. It was harrowing enough driving from LAX to Santa Clarita, but the sight of the theme park made us all giddy.
My driving went from defensive and cautious to completely irresponsible. I can't remember how long I was speeding on I-5, but it was long enough for my luck to run out. It seemed like all the other vehicles around us were speeding as well, but I guess the profile of the van set us apart and made us a target. The next thing I knew, I was being asked for "license, registration, and insurance" by a friendly CHP officer.
There was little small talk, and just a cold look from the officer the whole time. He was sure to compliment me on knowing how to stay in the correct freeway lanes. He also said he was perplexed that I wasn't responsible enough to watch my speed. I'm also glad we were all wearing seatbelts.
Since I was only going 12 mph over the speed limit, the officer handed me a ticket for a violation of CA Vehicle Code (CVC) 22349, Speed Laws. At that moment, I was more embarrassed at having to sign the citation than having to pay a small fine. When I mentioned that to the officer, he just smiled. I guess he knew what was coming.
In the end, I discovered why the officer just smiled. Yeah, the base ticket amount was $35, but I didn't expect the other assessments. I learned to drive in the 80s in Montana. Back then, if a Montana officer stopped a driver, the driver could pay a $25 fine on-the-spot and be on his way. That was a completely different era.
The Real Deal
The base ticket was $35, but after adding all the surcharges, assessments, and penalties going just 12 mph over the speed limit on I-5 cost me around $230, plus time in traffic court and a promise to my workmates that I would not drive on future business trips.
Santa Clarita Courthouse
The Santa Clarita Courthouse is located on West Valencia Blvd. and is open 8:15 am to 4:30 pm Monday through Friday. There are options to pay bail amounts for a guaranteed hearing date, pay fines by phone, or pay fines using the court's online payment system. Traffic court appearance dates are outlined on tickets themselves, but online payment can be made anytime.
Though simple California speeding ticket fine totals can come as a shock, jurisdictions have made it extremely convenient to process them. The best way to avoid discovering how steep the fines can be is to always remain diligent about driving the speed limit and ignore all the background noise and other excitement in the vehicle. But, even if you are very careful and try to obey every traffic law, things happen. That's when it's time to contact a Central Valley traffic ticket attorney.
Hire a Local Kern County Traffic Ticket Defense Team
Call Bigger & Harman, 661-349-9300 to ask about your ticket or email: attorney@markbigger.com. Se habla Español 661.349.9755.

When your business trip takes a detour to traffic court, you need a local traffic ticket team that knows the ins and outs. Hiring cousin Vinnie, the divorce lawyer might work well in family court, but traffic court is an entirely different matter. You need to know that Santa Clarita traffic court judges have been directed by the Traffic Commissioner to suspend the driver's license of those convicted of speeding over 100 mph in their courtrooms for 30 days, even for first-time offenders.

"After getting a speeding ticket 100MPH+ on a business trip, I contacted Mark Bigger after finding him through a Google search, and am very glad that I did. He has excellent responsiveness, and very honest of the outcome, hopefully I can beat this case." – Mauricio E., Redwood City

Read their Nolo.com write-up, Nolo is the nation's largest online digest of legal professionals. For a convenient and confidential appointment use their website contact form. You can even contact them now on their Facebook page.