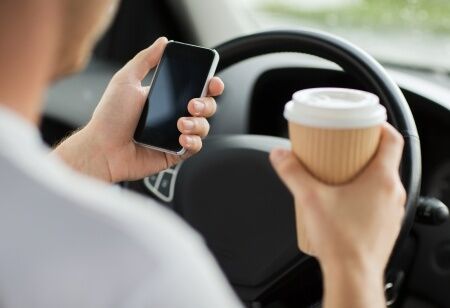 Military bases have joined the national crackdown on distracted drivers.
A recent article from Edwards AFB recapped some rather sobering statistics about driving while using a cellphone. Nearly a third of auto crashes now involve some form of distracted driving, and it's nearly always use of a wireless device. The government estimates that drivers who view or send a text message take their eyes off the road for about five seconds. At 55mph, a vehicle travels roughly the length of a football field in that amount of time.
Security officers at Edwards AFB will pull people over for talking or texting on a phone. In addition to penalties under the California Vehicle Code, the infraction counts three points against a base record, and violators must report the incident to their COs.
Federal Traffic Ticket
Civilians who get traffic tickets on federal property must deal with the Central Violations Bureau, a rather bloated bureaucracy that is interested in taking drivers' money, but not too keen on upholding the rights of drivers visiting Death Valley or Edwards. In addition to an appearance in Bakersfield, the scheduling is often highly inconvenient. Since the judge usually only hears traffic cases once every other month, it's difficult to get a court date that is convenient.
At Bigger & Harman, we routinely represent defendants in federal traffic court. Since we are familiar with the people and the process, we have a good chance to obtain a positive result. Even better, a qualified attorney can usually appear for you. As a brief side note, most traffic ticket lawyers in Central California are not allowed to appear in federal court because it requires a federal license. But here at Bigger & Harman, APC, we are committed to defending your driver rights in state and federal court.
Getting Legal Help
The aggressive lawyers at Bigger & Harman, APC, are committed to giving individuals a voice when dealing with speeding and traffic tickets. Call today at 661-859-1177 or email attorney@markbigger.com to receive the personal professional attention you deserve. En español, llame al 661-376-0214.