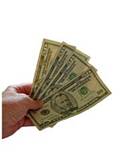 The "Penalty Assessment" trend appears to be spreading east into neighboring Arizona, meaning that California residents facing large speeding ticket add-on prices have little hope for relief.
In May 2014, Pima County officials announced that fees would increase for speeding tickets by as much as 30% in some cases. The county claims it needs the money for the moving costs and security upgrades associated with the new Tucson courthouse facility. Pima County Supervisor Richard Elias defended the costs as "user fees" that were related to "court expenses."
The county may add additional fees and costs to speeding tickets in the future.
In California, the base fine plus the general penalty assessments plus the surcharge plus the EMS penalty assessment all adds up to the " total bail," or the direct cost of a speeding ticket. The formula to determine penalty assessments is rather complicated, but suffice it to say that the PAs often well exceed the base fine. For an overweight ticket, the fine can be as much as $2,000 with over $6,000 in PAs and surcharges. For a license plate display violation, such as improperly attaching the stickers or having a license plate frame that is a little too large, a $25 fine turns into a $194 citation.
Despite warnings from state officials, California has refused to reduce PAs. When considering the implications for your insurance rates, in addition to the direct costs, it makes sense to find an attorney practicing in Kern County to fight your ticket, or at least try and get the fines and/or points reduced.