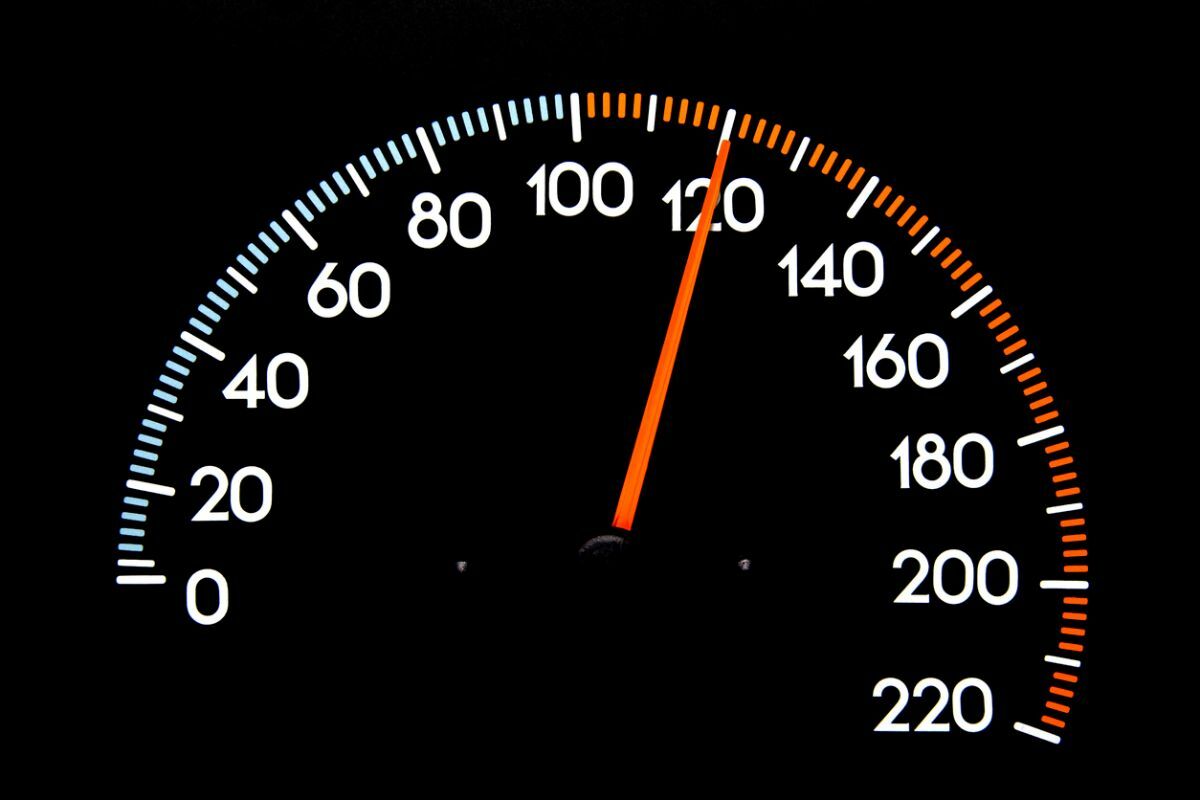 NOTE: The following scenario is fictional, though the traffic violation, speeding beyond 100 mph, and its consequences are factual. Always consult a traffic attorney before you decide to challenge the ticket.
Imagine you're headed back to LA from your week-long stay in the Dead Mountains Wilderness Area, Havasu National Wildlife Refuge, and some catch-and-release fishing in Topock Catfish Paradise. It was a fun and fulfilling week, but it's back to work on Monday, so you were going a little fast on I-40 to get back.
You were just outside Needles in San Bernardino County when you saw the lights flashing. You didn't hear the siren due to the heavy metal sounds from your car stereo. 
The law enforcement officer (LEO) looked slightly annoyed when he asked to see your license, registration and proof of insurance. But he politely asked, "Do you know how fast you were going?" You know you were speeding even though you didn't look; you figured around 85 or 90. You were quite shocked when the LEO said he clocked you at 103 mph. In fact, you didn't think your old Honda could hit 100.
The LEO warned you that you might have to return to Needles in San Bernardino County for trial if they retain jurisdiction, but you should consult an attorney.
What Are the Consequences for Speeding Beyond 100 MPH?    
The most inconvenient portion in this scenario might be returning to Needles, CA, for a mandatory court appearance. That's correct. You cannot just mail in the fine. However, if they maintain jurisdiction, you can hire a traffic attorney to challenge your ticket in court, which is a wise decision anyway. That also means you can go to work as if nothing happened, and not pay the expense to travel back to Needles. 
Think about it. What do you know about defending yourself in court for a speeding ticket? Many believe that if they explain to the judge what happened and ask for leniency, they'll be OK. Maybe they will, but when you're looking at a possible $859 to $2,137 fine (the highest we've seen in the last two years is $2,137) and two negligent operator treatment system (NOTS) points that will linger for seven years, do you want to leave it to chance? 
Traffic attorneys spend dozens of hours per week in traffic court. They know the judges, the procedures, and how to subpoena valuable documents, like calibration records for radar guns and the LEO's training record for the device to fight the ticket. They know which judges will negotiate a reduced plea. 
What's more, the two NOTS points could be the most expensive part of a conviction. Your auto insurance provider will likely double or triple your premium at renewal. Another problematic inconvenience about those NOTS points is that you are halfway to a suspension. You can only accrue four NOTS points within a yearbefore the DMV suspends your driving privileges.
Further, the judge has the discretion to suspend your driving privileges for 30 days automatically if you are convicted.   
For more information on fighting a speeding beyond 100 mph ticket in Needles, CA, read our article, "Can You Fight a Speeding over 100 mph in Needles." 
Ask Bigger & Harman If You Should Challenge Your Speeding Beyond 100 MPH Ticket
The locations, consequences, and legal solutions in this fictional story are real. Call Bigger & Harman at (661) 349- 9300 for advice on your real-world speeding beyond 100 mph ticket or another traffic ticket. 
Contact Bigger & Harman, APC for an initial consultation at (661) 349-9300. Use our handy contact form to schedule a free consultation or email attorney@biggerharmanlaw.com.
Se habla Español (661) 349-9755.
References:
The CA Driver Handbook English y Español.
CVC Section 22348, Speed Laws.