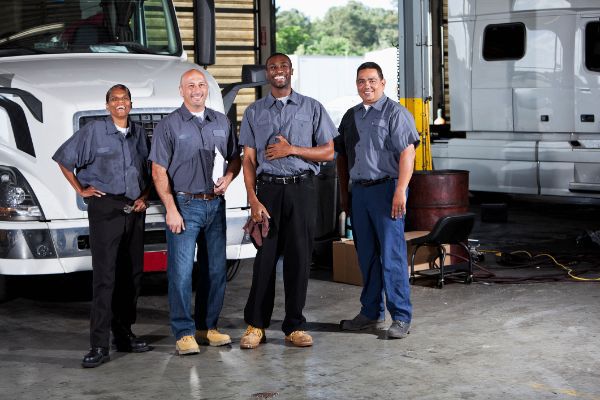 Although not all the usual trucking events will take place this summer, and some will be virtual events, we're going to take a look at what is still on the table for the industry. Also, we are going to talk about how to get information on and make reservations for upcoming trucking industry events.
Of course, there will be some less than popular trucking events this summer as well. The Commercial Vehicle Safety Alliance (CVSA) will host "Operation Safe Driver Week is July 12-18, 2020," which will have hundreds of thousands of inspectors and police on the highway looking for speeding trucks.
According to the CVSA article, Operation Safe Driver Week is July 12-18 With a Focus on Speeding, New York reported that traffic was down 90 percent during March, April, and May due to the pandemic, yet speed camera tickets were up 60 percent. In Washington, D.C., traffic was down 80 percent, but 20 percent more speeding tickets were issued. The CHP says their ticket volumes are down, but the vehicle crashes have been worse, insinuating that speed may be the cause.
CVSA points to these statistics as the reason behind focusing on speed during their upcoming safety week. However, they will be watching for distracted drivers, improper lane changes, following too closely, and others. Keep in mind; these are all FMCSA "serious offenses" that will get you a 60-day disqualification for a second conviction within three years, including use of a handheld device while driving.
Keep that in the back of your mind out there on the road that week. Any commercial motor vehicle (CMV) speeding even slightly over the limit will add to their statistics. The last CVSA "safety week" resulted in more than 2 million violations. Yes, it includes all 50 states, Canada, and Mexico, but still, that's a lot of tickets.
The annual CVSA Inspector's Conference, normally held in July, has been cancelled for this year.
The Iowa-80 Trucking Festival
Most truckers are familiar with the Iowa-80 Trucking Festival primarily because the I-80 Truck Stop is one of the biggest in the world, and the festival is too! However, this July event has been limited this year to virtual participation only online. You can get more information on the Trucker Jamboree that will have many virtual events throughout the summer here.
By clicking the highlighted link, you can get further information or check back later for updates.
The following are still scheduled to go on at this time:
The following trucking events will be held online:
The following trucking events have been cancelled:
There you have it; you're up-to-date on many of the big trucking events for summer 2020.
Who to Call When You Need Help with a Traffic Ticket
When you need assistance with a traffic ticket in California, a DMV NOTS Hearing or any traffic violation, call Bigger & Harman, (661) 349-9300. Se habla Español (661) 349-9755.
We offer a free, no obligation initial consultation by phone or email to get you the help you need and "keep on trucking."
Email: attorney@biggerharmanlaw.com.
References:
The 2019 CA Commercial Driver Handbook.pdf
CVSA.org article, Operation Safe Driver Week is July 12-18 With a Focus on Speeding
The Transport Topics Summer Events Update