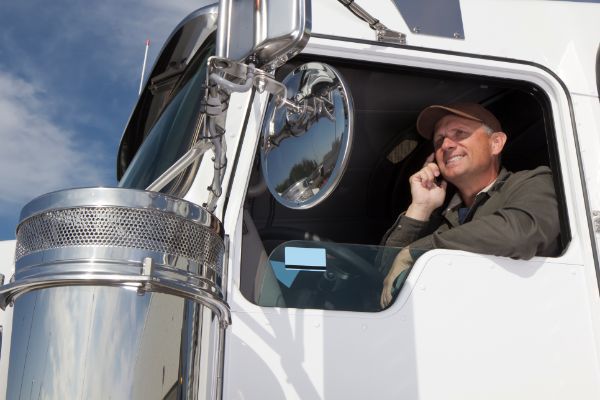 The CA Vehicle Code (CVC) Section 23123.5, Driving Offenses, prohibits the use of a hand-held device while driving, even holding a cell phone in your hand is a violation. Although, "A violation of this section is an infraction punishable by a base fine of twenty dollars ($20) for a first offense and fifty dollars ($50) for each subsequent offense." The total fine with state and county surcharges, fees, and penalties will amount to about $150 for the first-offense and $260 for subsequent convictions.
Also, there is no negligent operator treatment system (NOTS) points assessed for the paid fine or conviction in CA. Still, the FMCSA will assess a $2,750 fine and ten Compliance, Safety, & Accountability (CSA) severity points.
The FMCSA Mobile Phone Fact Sheet
Plus, the FMCSA Mobile Phone Fact Sheet forbids CDL cell phone use while driving or, "temporarily stationary because of traffic, traffic control devices, or other momentary delays."
When making a call or texting, your vehicle must be parked, or the phone part of the vehicle's communications system or the cell phone mounted within easy reach with a seatbelt fastened, and easily dialed with a single swipe of your finger. State laws may vary, and that is what counts. Most FMCSA civil penalties are enforced due to the CDL holder violating state law and getting convicted.
CDL Cell Phone Use Is a Serious Offense
When convicted in a traffic court or plead guilty and pay the fine, you just accepted strike one of a "serious offense" that will lead to a 60-day disqualification with strike two within three years. Strike three within three years, and you're out of a job for 120 days.
Realistically, it could be years before you get back into a fleet truck or bus. An owner-operator might be able to wait out the disqualification period if they have other trucks and other drivers, but if you are part of a fleet, don't count on it. Very few fleet managers are going to hold a position open while you serve a 60 or 120-day disqualification.
Likewise, with a CDL cell phone use conviction or paid fine on your Pre-Employment Screening Program (PSP) record, you will find it difficult to land a job with another fleet.
However, even owner-operators should consult a traffic attorney after being issued a ticket for CDL cell phone use.
Traffic Attorneys Who Resolve CDL Cell Phone Use Tickets in Kern County
Call Bigger & Harman, (661) 349-9300. Se habla Español (661) 349-9755.
Bigger & Harman, APC, are traffic law professionals. Their office is located at 1701 Westwind Dr, Ste 203 in Bakersfield. However, we handle traffic violations and NOTS Hearing for CMV and non-CMV drivers across the state.
Email: attorney@biggerharmanlaw.com.
References:
The 2019 CA Commercial Driver Handbook.pdf
The FMCSA Fact Sheet, Mobile Phone Restrictions Fact Sheet
CVC Section 23123.5, Driving Offenses