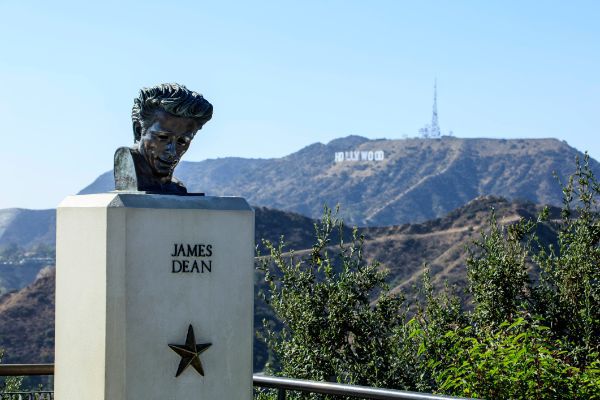 James Dean was the "Rebel Without a Cause," yet he was also a tormented young man who had a "need for speed." Although, it is questionable if speed was the cause of his death.
He died at the young age of 24 after making three widely celebrated films, two of which earned him posthumous Academy Award nominations for Best Actor. He and Rock Hudson were both nominated in "Giant," what many believe was the catalyst for the '80 TV series Dallas.
James Dean lost his life in a horrific crash while driving into Kern County on HWY 46 on his way to enter a racing event in the new convertible modified Porsche Spyder that 30th day of September in 1955.
Speed or Tragic Circumstance? You Decide
Rolf Wütherich, Dean's passenger and mechanic, who suffered some non-fatal injuries, rebuffed the police's notion that Dean was speeding at the time of the accident. He said Donald Turnupseed, the driver of the other car, a Ford Tudor sedan, turned left from 46 onto 41, and they had no time to stop.
The other driver, Turnupseed, had a few minor injuries. The law enforcement officers (LEO) who later investigated determined the light-colored Porsche was difficult to see in the setting sun. They believed that Turnupseed either saw the Porsche too late to stop or he never saw it.
It is debatable whether or not Dean was speeding. The inquest held a few days later in Los Angeles found Turnupseed guiltless and surmised that Dean was speeding as he received a speeding ticket earlier that day in Bakersfield.
Dean did indeed receive a ticket for speed, as did the driver of the pickup hauling the flatbed trailer the car could have been transported on if the mechanic hadn't told Dean to loosen it up by driving it to Palm Springs.
Dean's ticket by the Bakersfield Police Department was issued at 3:30 pm. The accident occurred in Chalome, CA, east of Paso Robles, CA, at 5:45 pm. However, the mechanic riding with Dean said they stopped at a diner and stopped to gas up.
Their last stop was at Blackwell's Corner to fuel up. Given that the accident occurred in San Luis Obispo (SLO) County in the town of Chalome, 84 miles from Bakersfield, where they got the speeding ticket in Kern County about two hours earlier, they had to have been moving right along.
The stretch of highway, which was 466 then, is now called the James Dean Memorial Highway and is officially SR-46. Their last stop at Blackwell's Corner is now a bit of a memorial to James Dean.
According to the Weird California website, "Inside the general store is a fifties diner, a variety of James Dean art, and lots of fifties memorabilia and pictures available for sale…"
What might be the most bizarre twist of this tale is that Dean made a promotional safety commercial for highway safety in which he says, "Take it easy driving. The life you might save might be mine." Some might think that is a fictitious story but the Snopes fact-checker backs it up. And much of what the Weird California website claims is echoed on the History.com website.
Consult a Traffic Ticket Attorney Who Handles Paso Robles & SLO Tickets
When you get a traffic ticket for speed, reckless driving, running a red light, or any other, call Bigger & Harman, (661) 349-9300. Se habla Español (661) 349-9755.
We are traffic ticket lawyers who protect the rights of drivers in traffic courts and at DMV NOTS Hearing across California. Give us a call.
Email: attorney@biggerharmanlaw.com.
References:
The
2020 CA Driver Handbook
.pdf