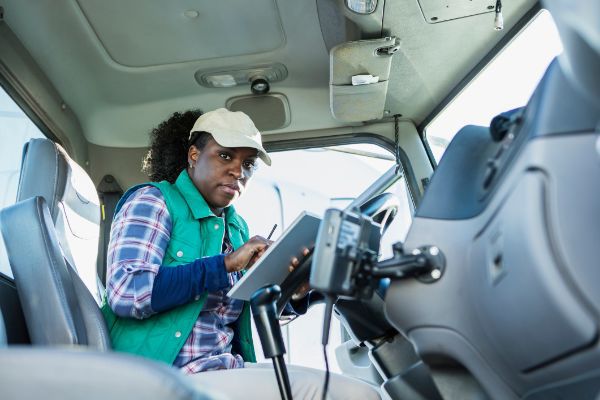 The Federal Motor Carrier Safety Administration (FMCSA) published the final rule on the Electronic Logging Device (ELD) in December 2015. Although the ELD's had an initial compliance deadline of December 2017, many exceptions and exemptions have come and gone.
The ELD mandate applies to more than three million commercial driver's license holders transporting goods and passengers across North America today. It is believed that many drivers are still not fully compliant. Many drivers theorize the ELD mandate makes drivers speed up to get to their destination before their driving hours run out, making it more dangerous than the probability of fatigue.
December 16, 2019, was the last date to make the switch from the grandfathered Automatic On-Board Recording Device (AOBRD) to the ELD. These devices are basically the same, but the ELD starts logging hours when the truck's engine starts.
The Electronic Logging Device (ELD) Background & Mandate
Paper logbooks used since 1937 are now obsolete in most commercial vehicles. An ELD must connect to the commercial motor vehicle (CMV) engine so that it will track movement and Hours of Service (HOS) compliance. When the engine is started, the driver must choose between on-duty, on-duty not driving (such as during a sleeper berth), or off-duty. The ELD displays the duty status and hours, so a driver knows at a glance.
Likewise, a non-driver, such as a mechanic or a yard worker, could log in to test drive or fuel the vehicle without those hours counting against the actual driver. Also, during the ten hours off-duty, the driver could use the vehicle for personal conveyance to drive to a nearby restaurant or convenience store without compromising their off-duty status as long as they choose the personal conveyance option.
All CMV drivers required to maintain a log or Record of Duty Status (RODS) must be fully compliant with the ELD mandate. If stopped at a roadside inspection without an operational and "provider-certified" ELD onboard they could be subject to an 8-hour Out of Service Order (OOS) and significant fines. The device must be capable of sending data (typically the last seven days) to law enforcement authorities. The average price for these certified devices is about $500 annually per vehicle or $15 to $35 per month. Of course, there are exemptions to the HOS and RODS.
ELD Exemptions
The primary reasons for an exemption to the ELD mandate are agricultural or livestock drivers who do not drive more than 150 air-miles and those local drivers who do not drive more than 100 air-miles from where they start their day to where they finish. However, these drivers must maintain the accountability of driving times. Once they surpass 100/150 air-miles or 12 hours working in one day, they must keep a log, but they are not required to have an ELD installed.
However, vehicles manufactured before the year 2000 and vehicles that are "drive-away, tow-away" are also exempt from the ELD mandate.
Roadside Inspection Violations or Missing ELD in Truckee
CDL holders must consult with a traffic attorney about any HOS violations or failures to meet the ELD mandate. Call Bigger & Harman, APC, to arrange a free, confidential consultation, (661) 349-9300. Se habla Español 661.349.9755.
Send us an email, attorney@biggerharmanlaw.com.
References:
The 2019 CA Commercial Driver Handbook.pdf
The Business Insider article, ELD Mandate
The teletracnavman.com article, What is the ELD Mandate?
The GPSInsight.com article, How Much Does ELD Cost?