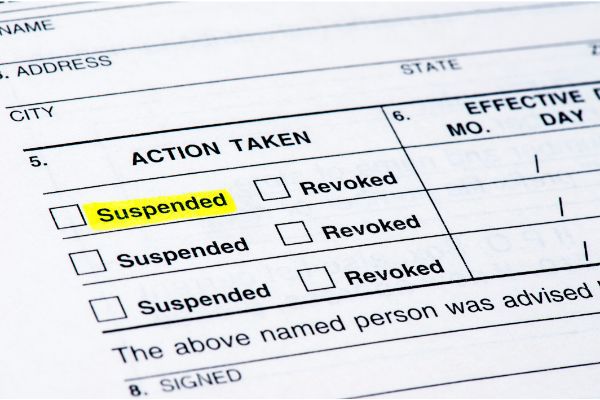 Although it could depend on why your license got suspended and if you knew about its suspension, you could incur severe problems if caught and convicted of driving with a suspended license.
#1 — It Is a Misdemeanor Crime to Drive with a Suspended License
It is a misdemeanor crime to "knowingly" drive with a suspended license. "Knowledge shall be conclusively presumed if mailed notice has been given…" This is where having an experienced and knowledgeable traffic attorney could be wise. If the DMV mailed the Order of Suspension and Probation to a previous address or the order was issued within a few hours of getting stopped, the driver was probably not "knowingly" driving with a suspended license.
Plus, California recently passed a law that prohibits courts from suspending a person's driver's license for non-driving offenses. These new laws could be complicated, particularly after an arrest for driving with a suspended license and you should consult a traffic law professional for accurate answers.
#2 — You could Serve Time in County Jail
CA Vehicle Code (CVC) 14601, Violation of License Provisions cautions "No person shall drive a motor vehicle at any time when that person's driving privilege is suspended or revoked…"
If convicted of driving with a revoked or suspended license, the driver could face 5 to 90 days in county jail. A subsequent conviction within five years of the previous conviction could require a minimum of ten days in jail and probation.
#3 — The Costs of Driving with a Suspended License Will Snowball if You Are Caught
The base fine for a first conviction of driving with a suspended license is between $300 and $1,000. Once the state and county add surcharges and administrative fees, that fine could be more than $3,000.
A subsequent conviction within five years of the first would require a base fine of $500 to $2,000. Once again, the county and state will add penalties such as court construction fees, a state penalty of 100% of the base fine, a county penalty of 70% of the base fine, a DNA ID fund fee, and six others that could make your total fine two or three times the base fine.
#4 — Your Chances of Getting Your License Re-Instated Drop Dramatically
After being convicted for driving with a suspended license, the fines are so steep many California drivers are unable to pay. Some are not aware the judge can consider their income before imposing the fine, or that payment plans are available. Still, it can be costly for low-income workers. Therefore, many continue to drive with a suspended license.
Even after successfully paying all the fines and penalties, the driver must pay the state a reinstatement fee of $125 to get their license re-issued. If their license was revoked, they must pay the fee and start over as if they never had a license, which takes more time and costs more money.
These and many other reasons make it prudent to hire a traffic attorney and challenge every traffic ticket to avoid DMV assessed Negligent Operator Treatment System (NOTS) points. If you have already received an Order of Suspension from the DMV, ask for a DMV Hearing, and hire a traffic attorney to assist you in the possibility of getting points removed from your record to avoid suspension. Consult a traffic attorney, your driving privilege advocates.
Traffic Attorneys Who Handle Issues with a Suspended License in Kern County
Bigger & Harman at (661) 349-9300 are CA traffic attorneys who can assist you in getting your suspended license re-instated, represent you at a DMV NOTS Hearing, and help avoid convictions that will get assessed NOTS points by the DMV. It is likely much easier and cheaper to keep a clean record than to repair the damage.
Se habla Español (661) 349-9755.
Email attorney@biggerharmanlaw.com.
References:
The California Globe article, Driving Licenses Can No Longer Be Suspended For Non-Vehicle Related Crimes Under Bill September 13, 2019
The CSG Justice Center article, On Child Support/Drivers' License Renewal June 2013
District 18 Press Release, Bill to Stop Automatic Suspension of Driver's Licenses Passes Senate