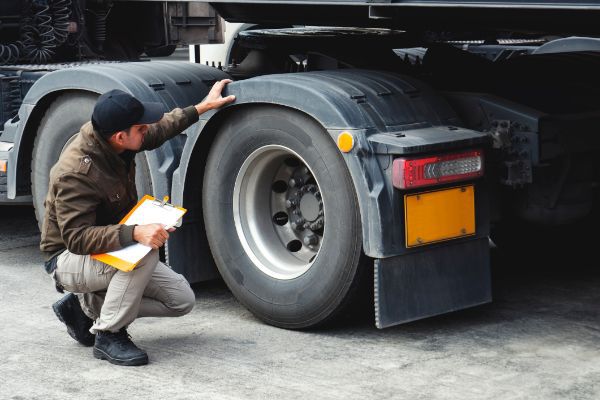 According to the FMCSA CFR Title 49 Part 396.9, Roadside Inspection Reports, "Any driver who receives a roadside inspection report must deliver it to his/her employing motor carrier."
What's more, the carrier or trucking firm must make all necessary corrections and return the roadside inspection form to the appropriate address. And fleet management must maintain a copy on file for one year.
Daily or Driver Vehicle Inspection Report (DVIR) 
The best place to start preventive maintenance to avoid mechanical issues at a roadside inspection is during the DVIR process. Drivers are required to perform a thorough examination of their vehicle and record the results on a DVIR, which is a mandatory inspectable item. The driver must also update the DVIR after each overnight stay, and at the end of the trip.
When there are shortcomings before a trip or upon return, the DVIR and vehicle must be taken to the mechanic. The mechanic must either make the repair or sign the report saying it did not need repair. 
After a completed trip could very well be the optimum time to report those items that might take time to repair. Getting that maintenance done is paramount to not getting popped at a roadside inspection. And the carrier cannot legally require a driver to operate a vehicle with a deficiency or defect that is "likely to affect the safe operation of the vehicle," according to Part 396.11.
Maintenance & Roadside Inspections
Since the most frequently failed inspection items are lights, tires, and brakes, the driver should pay much closer attention to those items during inspection. Yes, the examination should indeed be thorough for all mechanical components; however, these three are items that most often catch the inspector's eye during a roadside inspection. 
When you think about it, it makes sense. A blown steering tire can be extremely dangerous, as can brake failures; and blinkers, brake lights, and warning lights alert other drivers to dangers.   
Another item many drivers get Compliance, Safety, and Accountability (CSA) shortcomings or severity points for is the safety belt. Some drivers put the safety belt on once they swing into the weigh station. Inspectors say it is already too late; they might as well leave it off. That roadway coming into the weigh station is part of the inspection, and the video of them putting on their safety is proof of their roadside inspection violation.
The FMCSA Safety Measurement System (SMS) is a system used to measure a fleet or carrier's safety percentage when compared to other carriers of approximately the same size. Shortcomings from roadside inspections, accident reports, and law enforcement stops are fed into the FMCSA database into seven Behavior Analysis and Safety Improvement Categories (BASICs). 
Vehicle maintenance is only one of those seven. However, keeping a clean record is essential for carriers and drivers. Why drivers? Those recorded shortcomings are your responsibility as well as the carriers. Violations from a roadside inspection become a part of your Pre-Employment Screening Program (PSP), which will likely affect your next job. If you want to get hired by those high-paying firms, you need a nearly spotless record for the previous three years.
Consult a Traffic Attorney about those Roadside Inspection Violations in Truckee, CA
Call or email Bigger & Harman, (661) 349-9300. Se habla Español (661) 349-9755.
We are California traffic law attorneys. We assist drivers with traffic tickets, roadside violations, and NOTS Hearings. We extend a free initial consultation to CDL holders.  
Email: attorney@biggerharmanlaw.com. 
References:
The 2019 CA Commercial Driver Handbook.pdf
The FMCSA CFR 49 Part 396, Inspection, Repair, and Maintenance for Motor Carriers
The Truckingtruth.com article, CSA - Compliance, Safety, and Accountability Program