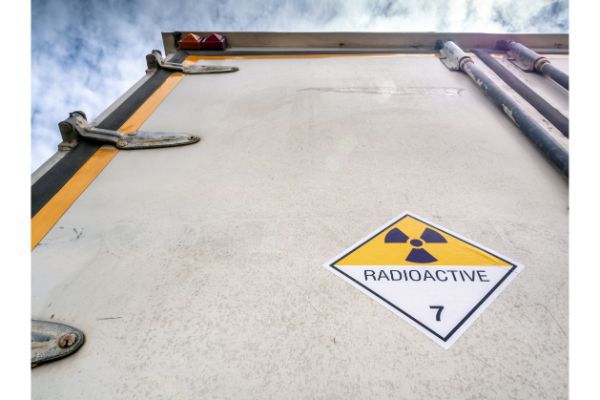 It is crucial when transporting hazardous materials (HazMat) to apply the labels and placards correctly. Although it is the shipper's responsibility to provide labels and placards for HazMat transport, the driver is expected to apply these correctly and have a general knowledge of transporting HazMat.
Correct placement of the labels and placards for HazMat can be found in Section 9 of the 2019-2021 DL 650 CA Commercial Driver Handbook. This publication is written and provided by the DMV, who is the testing authority for your commercial learner's permit (CLP), commercial driver's license (CDL), and the "H" endorsement required for transporting HazMat. Additional information is provided by 49 CFR, Placarding Regulations Parts 172.500-172.560. 
Other Responsibilities of the HazMat Driver
Additionally, when stopped by a law enforcement officer (LEO) or at a weigh station or roadside inspection, the driver is required to have their shipping papers and CDL with "H" endorsement. 
Section 9.6.10 prescribes where and how the shipping papers for HazMat must be stored in the cab of your vehicle. They must be within reach of the driver when wearing their safety belt and visible to anyone who opens the door after an accident. 
The driver, for instance, must know that there is no smoking in or around a vehicle carrying these five HazMat: 
Class #1 Explosives
Class #2.1 (Flammable Gas)
Class #3 (Flammable Liquids)
Class #4 (Flammable Solids)
Class 5 (Oxidizers)
Drivers must never transport a leaking HazMat. The driver must brace HazMat cargo to prevent shifting during transport. Drivers are warned not to place unauthorized similar advertisements, signs, or slogans on vehicles transporting HazMat or cover those already on the vehicle to avoid confusion. Check Section 9.9 when you intend to mix HazMat loads; some materials are not to be loaded with other materials. Read Section 9.6 to familiarize yourself with parking procedures for the various classes of HazMat.
Likewise, drivers must acquire maps of the route they will use from the CHP. These maps will show the designated stopping or break areas along the route. It is a misdemeanor to stop in an unauthorized area or not have an authorized map of the route.
Traffic Attorneys Who Can Handle a Traffic Violation in Woodland, CA  
When you get ticketed for a HazMat violation in Yolo County, CA, Bigger & Harman, (661) 349-9300, can assist you. Se habla Español, (661) 349-9755.
We can help commercial drivers with a variety of traffic ticket issues, roadside inspection violations, and DMV NOTS Hearings in Northern California. We practice only traffic law, offer CDL holders and other commercial drivers a free initial consultation, and work with a flat fee so that you know how much it will cost to resolve your situation.  
Email: attorney@biggerharmanlaw.com. 
References:
Section 9 of the 2019-2021 DL 650 CA Commercial Driver Handbook.pdf
Labelmaster.com 
article
, 
49 CFR, Placarding Regulations Parts 172.500-172.560