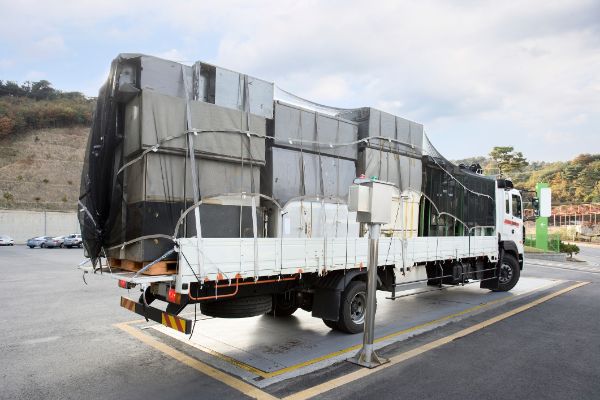 What many novice commercial drivers need to keep in mind is that once they drive away from the shipping dock, that overweight truck is their responsibility. Sure, some fleet managers include a responsibility clause in their employment contract to cover the fine. Even then, a driver must be leery. 
Last year, 700 trucking fleets went out of business. If you have a ticket for an overweight truck and your fleet goes out of business, who do you think will be liable for that ticket? Seasoned drivers have seen it more than once. 
Your best bet is after you are loaded, check the weight. If they don't have the equipment at the dock, your first mission outside that gate is to find a public weigh station. Depending on where you get loaded up, there are nine in Riverside County. If you take off for Phoenix, you could get in trouble around Banning.       
An Overweight Truck at Banning West on I-10
The Banning Weigh Station, better known as the Desert Hills Commercial Vehicle Enforcement Facility, is operated by the CHP. It gets 1.2 million visits by commercial vehicles per year, and they average 45,000 safety inspections or roadside inspections, making it the busiest weight station. 
Commercial vehicles must stop when the station is open even if they have PrePass and get a green light if they are overweight or overlength, with or without a permit. You'll get through quicker if you have everything inspection-ready.
How Much Is the Fine for an Overweight Truck in Riverside County?
The fine for an overweight truck across CA is typically, $1 per pound overweight. Admittedly, you could pay a lot more when you are only over by a hundred pounds but imagine being 5000 pounds over. A truck that's 10 to 20,000 pounds overweight could put an owner-operator out of business and into bankruptcy. 
The worst of it could be that 4,501 pounds over could be a misdemeanor. Many traffic court judges will grant a downgrade to an infraction when a traffic attorney asks. Most traffic court judges do not want to saddle a truck driver with a misdemeanor criminal record for doing their job.
Bigger & Harman, APC Handles Overweight Truck Tickets in the Riverside County 
Bigger & Harman, APC, will handle your overweight truck tickets, speeding, unsafe lane changes, railroad crossing violations, following too closely, or other violations. What's more, we can represent you at a DMV NOTS Hearing. Give us a call, (661) 349-9300. Se habla Español (661) 349-9755.
Email: attorney@biggerharmanlaw.com. 
References:
The 2019-2021 DL 650 CA Commercial Driver Handbook.pdf