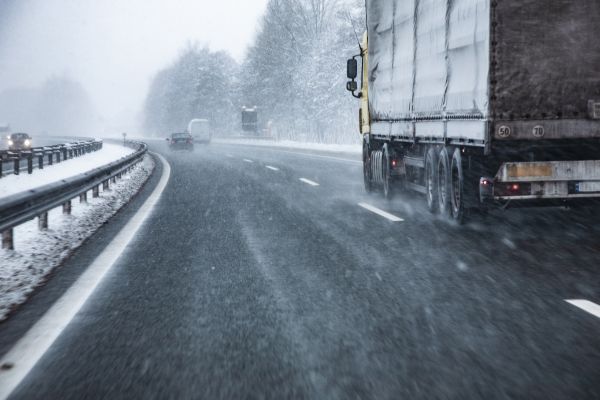 When you're transporting goods along I-80 to the port in Oakland or moving produce north from the Central Valley into Canada, you do not want to hear, "…three to seven inches of new snow expected in the high country above 6000 feet." Likewise, the announcement of heavy fog rolling into low-lying areas can get a trucker's attention. 
Truckers in California Know It's Not All Sunshine and Lollipops 
It's not quite like Albert Hammond's song from '73, "It never rains in California, but girl, don't they warn ya? It pours, man, it pours." 
Truckers know rain, sleet, snow, and fog can affect their trip and thus their wallet. When the rain pours, the fog is thick as "pea soup," or the snow is stacking up along I-5, 80, or Highway 50 in Sacramento and Nevada Counties, and truckers are sitting still along the highway or waiting for weather conditions to clear up, they are not earning. As a Canadian trucker, David Brand pointed out to reporters, "I'm not getting paid, no, the wheels aren't moving so I'm not getting paid."   
Another Reality for the Trucker Is "Driving Too Fast for Conditions"
CA Vehicle Code (CVC) 22350, Speed Laws affects truckers as it does their non-commercial driving peers. However, when you get paid by the mile and you aren't getting any closer to your destination, it can severely hurt your bottom line. 
That is what many refer to as the "prima facie" or basic speed law. It warns all drivers not to travel at a "…speed greater than is reasonable or prudent having due regard for weather, visibility…" But what is "reasonable or prudent"?
Realistically, the law enforcement officer's (LEO) interpretation of prudence will be quite different than yours; after all, you know your truck. You know its capabilities. You know how the brakes handle the weather. What's more, many traffic court judges will allow the LEO to estimate your speed when writing a ticket for too fast for conditions. 
The big difference is the vehicle weight. Many LEOs overreact when they see the snow and slush flying out from under the wheels of a big rig. Even the snow-chain equipped truck might intimate to the LEO that it isn't safe. 
When you get ticketed, you need a traffic attorney who can explain to a traffic court judge their fear was unfounded. All they need to do is foster a "reasonable doubt" in the judge's mind. Some truckers believe they can do this on their own. However, in most cases, a trip to traffic court will also keep you from earning. And, getting tongue-tied when your turn finally arrives might send your defense into a tail-spin. Why risk your career to save a few dollars? Consult with a traffic attorney. 
Trucker Speeding Tickets in Sacramento or Nevada County, CA 
If you get a ticket for speeding around Truckee or the Sacramento area on your way to a port in the Bay area, call Bigger & Harman, (661) 349-9300, se habla Español (661) 349-9755, or send an email, attorney@biggerharmanlaw.com.
We are one of California's premier traffic attorney firms that handle traffic tickets and DMV Hearings. Use our FREE initial consultation to determine your chances before you decide. 
References:
The 2019 CA Commercial Driver Handbook.pdf
The ABC10.com article, How the snow is impacting the bottom line for truckers in California
The ABC10.com article, Rain subsides as fog moves into Sacramento region
The Fleetowner.com article, Mitigating the weather's impact on trucking
CVC 22350, Speed Laws