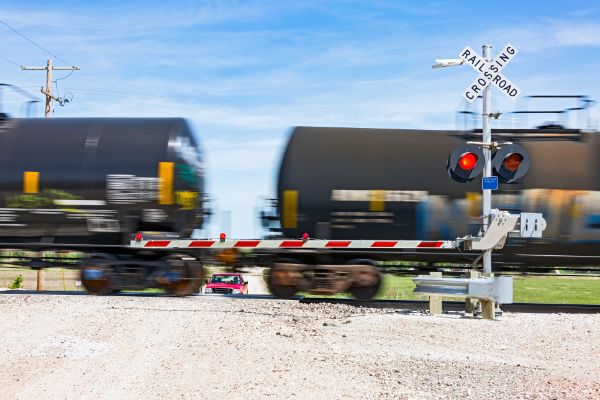 A conviction for a railroad crossing violation will cost a bus driver or trucker dearly. This is one of the FMCSA's serious offenses. However, unlike others such as an unsafe lane change or following too closely, the conviction for a railroad crossing violation provides no second chance.
When you get a railroad crossing violation, regardless of the circumstances, you have two choices, hire an experienced and knowledgeable traffic attorney to vigorously dispute the allegation, or prepare for a two-month vacation without pay. Plus, drivers are subject to a $2,750 fine from the FMCSA in addition to local penalties.
The FMCSA can disqualify a CDL holder for 60 days for the first offense, 120 days for a second, and one year upon a third violation within three years of the first conviction. 
Fleets that have a policy to require or allow drivers to enter their commercial motor vehicle (CMV) into a railroad crossing unsafely could be fined as much as $11,000.  
What Constitutes a Railroad Crossing Violation?  
The most significant portion of the FMCSA's prohibition states the driver may not enter the railroad crossing, "…without having enough room to clear the tracks completely without stopping." Likewise, Title 49 CFR warns against shifting gears while in the railroad crossing. They leave most up to the state's traffic laws. If you are convicted of violating the state's law, regardless of your resident state, its rules apply and will follow you.
What Does CA Vehicle Code (CVC) Say about Railroad Crossings?
CA Vehicle Code (CVC) 22452, Special Stops Required, lists those CMVs that must stop "…not less than 15 nor more than 50 feet from the nearest rail of the track…" After the vehicle comes to a complete stop, the driver must roll down their window, look both ways and listen for indications of approaching trains or railroad equipment. They must not move forward until it is safe to do so. "Upon proceeding, the gears shall not be shifted manually while crossing the tracks."
The list of vehicles is too numerous to list here. However, it includes most CMVs and passenger for-hire vehicles, including farm vehicles and school buses. Those not listed must approach the railroad crossing slow enough to be able to stop prior to reaching the first track and proceed cautiously.
Railroad Crossing Tickets in Roseville
When you get ticketed for a railroad crossing violation around Roseville, CA, call Bigger & Harman, (661) 349-9300. Se habla Español 661.349.9755.
We handle alleged traffic violations for CDL holders and regular drivers in traffic courts around Sacramento. We can also represent you at a DMV NOTS Hearing.
Send us an email attorney@biggerharmanlaw.com with your specific issue. 
References:
The 2019 CA Commercial Driver Handbook.pdf
The FMCSA Final Rule, Highway Rail Grade Crossing: Safe Clearance
CVC 22452, Special Stops Required