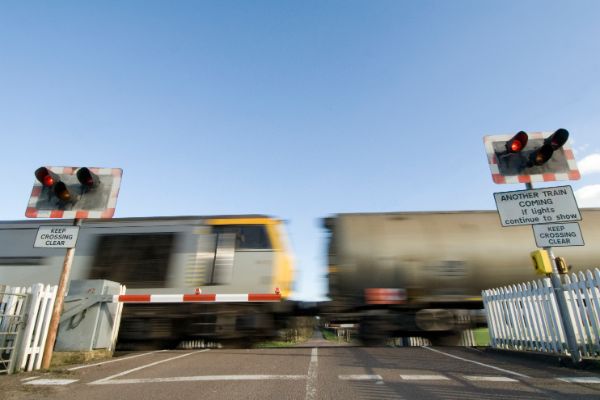 A conviction or paid fine for an improper railroad crossing is big trouble for any CDL holder. Whether you are a truck driver or passenger bus driver, you will get suspended for 60 days from driving a commercial vehicle for interstate transport of passengers or cargo.
CA Vehicle Code (CVC) 22452, Special Stops Required, and the 2019 Commercial Drivers Handbook, Section 2.15 starting on page 2-35, talks about Railroad Crossings. It states, "These crossings are always dangerous. Every such crossing must be approached with the expectation that a train is coming." Although that is common sense, it is also a good reminder for commercial drivers, as the FMCSA considers any conviction on a railroad crossing violation a serious offense.
All passenger vehicles and vehicles used to carry HazMat (loaded or empty) are required to stop at railroad crossings within 15 feet but not more than 50 feet of the first track. The bus driver must open the passenger door, and a truck driver must open the window, then look and listen for approaching trains, and "shall not proceed until he or she can do so safely."
Likewise, it typically takes a tractor-trailer 14 to 15 seconds to clear a railroad crossing. The driver should have enough clearing to get across the tracks completely without stopping or shifting gears.
Stops are not required when:
A law enforcement officer (LEO) directs you to keep going
When the railroad track runs alongside the roadway in a residential or business district
Where an exemption sign has been posted (school & school activity buses must still stop when "transporting school pupils")
All commercial vehicles must slow to a rate of speed that makes it practical to stop if necessary.
A Railroad Crossing Conviction Is a Serious Offense
Title 49 of the CFR, Part 392, Highway-Rail Grade Crossing: Safe Clearance, states that a commercial driver convicted of a railroad crossing violation is guilty of a "serious offense" and faces an immediate 60-day disqualification as a CDL driver. A second conviction within three years will lead to a 120-day disqualification, and a third will result in a full year disqualification.
Additionally, the driver is subject to a civil penalty of up to $2,750. The carrier could be fined $11,000 for allowing or requiring the CMV driver "to operate CMVs onto a rail crossing without having enough room to clear the tracks completely without stopping."   
Those are some severe penalties, but even worse, if convicted of even one violation, the CDL holder could lose their job. What's more, it will be nearly impossible to sign on with another fleet with a railroad crossing serious offense on your Pre-Employment Screening Program (PSP) record. You must consult with and hire a traffic attorney who can handle your ticket.
Bigger & Harman, APC, Can Handle Your Railroad Crossing Violation in Woodland, CA  
Call Bigger & Harman, (661) 349-9300, when you have a railroad crossing violation or any traffic ticket in Yolo County. Se habla Español (661) 349-9755.
We provide a free initial consultation for all CDL holders, and we handle DMV NOTS Hearings as well.
Email: attorney@biggerharmanlaw.com. 
References:
The 2019 CA Commercial Driver Handbook.pdf

CVC 22452, Special Stops Required

Title 49 of the CFR, Part 392, Highway-Rail Grade Crossing: Safe Clearance