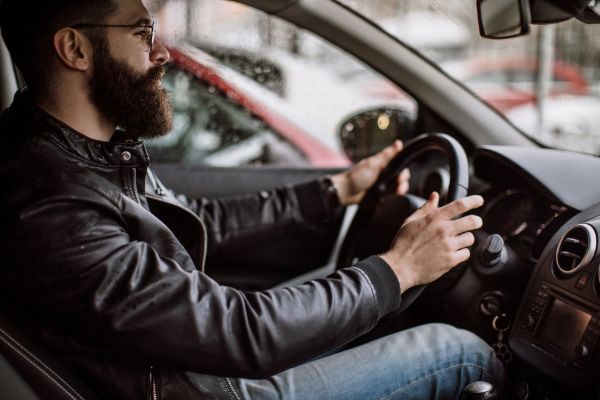 If you receive a driving without insurance citation, the severity of the citation depends on if you had insurance and couldn't find your card or otherwise prove you had insurance (you can provide proof on your "mobile electronic device"). In which case, it becomes a "correctable offense" or "fix it" ticket. You take the proof of insurance to the police station in the jurisdiction where you received the ticket and have a police officer sign off on the citation. Then, go to the court clerk and pay any administrative fee and you're finished.
To avoid this expense and inconvenience, keep a copy of your proof of insurance on your phone!
However, if you did not have insurance, according to CA Vehicle Code (CVC) 16028, Financial Responsibility you could be subject to a base fine of $100, which with surcharges, penalties, and assessments will amount to between $475 and $500. Plus, one Negligent Operator Treatment System (NOTS) points will be assessed by the DMV, which could be a much more significant financial issue.
More Severe Repercussions for Driving Without Insurance
CarInsurance.com shows that a driving without insurance conviction in CA will likely lead to a 36 percent increase when you do get insurance. In CA, the 2019 average for auto insurance is $1,962. Therefore, a 36 percent increase would cost the average Californian $706.32 more annually, for a total of $2,668.32.
Of course, those who only carry the minimum 15/30/5 liability insurance that only covers medical for others injured up to $30,000 per incident and $5,000 damage will realize a much lower increase. Keep in mind; these minimum figures might not be enough to cover a significant accident.
All drivers should consider an uninsured and underinsured motorist rider for their coverage. However, having the minimum coverage is better than driving without insurance, and might be all some can afford.
Consequences of an Accident While Driving Without Insurance
Although the legal implications for an accident with a first offense driving without insurance could be the fine and NOTS points, civil penalties could make it much worse. Likewise, that could happen in the above scenario when your coverage does not meet the expenses of medical or damage.
Those who realize a loss because of your alleged "negligence" can sue you in civil court. When the extent of damage and medical expenses are more than $100,000, you could lose your home and other assets. Driving without insurance is never a good idea, but driving without adequate insurance could be a financial issue too.
What's more, after a conviction of driving without insurance, you might be required to show proof of financial responsibility with an SR-22. This form is filed with the DMV by your insurer and states that you have the minimum coverage. Check with SR22insurnace.net for possible cheap insurance alternatives.
Bigger & Harman Can Handle Your Driving Without Insurance Ticket in LA County
If you receive a driving without insurance citation in LA County around Chatsworth, Glendale, West Covina, Inglewood, and others, call Bigger & Harman (661) 349-9300. Se habla Español (661) 349-9755.
We can also handle traffic tickets in SLO, Riverside, Barstow, and all of Central Valley. Give us a call today.
Send us an email, attorney@biggerharmanlaw.com.
References:
The CarInsurance.com article, Penalty for driving without insurance for every state
CVC 16028, Financial Responsibility
SR22insurance.net