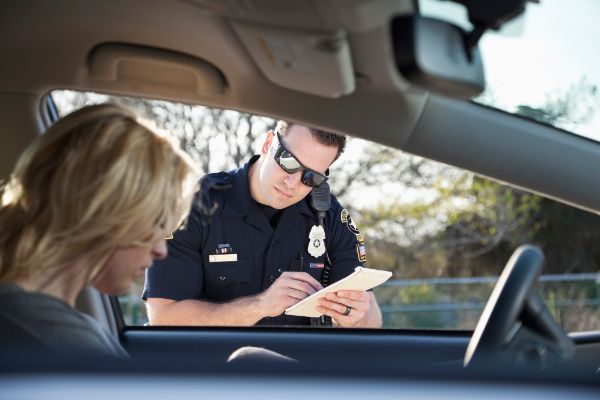 Passing a stopped school that is loading or unloading school children is dangerous because children are unpredictable. 
If, while loading the bus, they drop their schoolbooks and papers, they might run out into traffic to retrieve their homework. When getting off the bus, a child's pet might run into traffic to greet them. Aside from the danger, a school bus ticket could lead to a fine of up to $695 and a Negligent Operator Treatment System (NOTS) point, which could lead to an increased auto insurance premium.
CA Vehicle Code (CVC) 22454, Special Stops Required, makes it an infraction to pass a school bus stopped to discharge or pick up students, and which "displays a flashing red light signal and stop signal arm" in either direction on a two-lane road. 
When there is a divider between you and the school bus, it is legal to proceed, though you should drive carefully. The driver on a "divided highway or multiple-lane highway" is not required to stop.
Violations Do Not Always Result in a School Bus Ticket
Just because you weren't stopped and given a school bus ticket immediately does not mean you were not detected passing a school bus with warnings displayed. The school bus driver can record your registration plate number, vehicle description, and report you to local law enforcement officers (LEO) within 24 hours.
The LEO does not have to issue a citation. They could issue a warning letter approved by the CA Attorney General. However, there is no requirement to issue a warning before or in lieu of a traffic citation. 
The warning letter does not go onto the motor vehicle driving record (MVR) of the driver. There must be a paid fine or conviction for the DMV to assess NOTS points and maintain a record of the incident. LEO might, however, remember or record a local file about the event.
You Can Challenge a School Bus Ticket
Before challenging a school bus ticket, you should consult with a traffic ticket attorney. The conviction or paid fine for a school bus ticket will stay on your MVR for three years, and you might not be eligible for a 20 percent "good drivers discount." Also, the increased risk will result in higher premiums for those three years. 
There are four frequent defenses for a school bus ticket:
You were not driving. The bus driver or LEO made a mistake; it was someone else driving. 
The bus was not stopped.
The bus, although stopped, did not "displays a flashing red light signal and stop signal arm."
You could not stop because of an emergency.
Many drivers make the mistake of believing they can challenge a school bus ticket on their own. Although it might be possible, traffic ticket attorneys are more familiar with vehicle code and which elements the state must prove "beyond a reasonable doubt." Consult with an experienced and knowledgeable traffic ticket attorney.
Who Handles a Kern County School Bus Ticket?
Bigger & Harman can resolve your Kern County school bus ticket in Bakersfield Traffic Court. Call us at (661) 349-9300. Se habla Español (661) 349-9755.
We are familiar with the personnel and procedures in Hanford Traffic Court because we appear here regularly to resolve alleged violations for clients. We charge a standard, affordable fee that does not change regardless of how many court appearances we must make.   
Send us an email, attorney@biggerharmanlaw.com.  
References:
CVC 22454, Special Stops Required