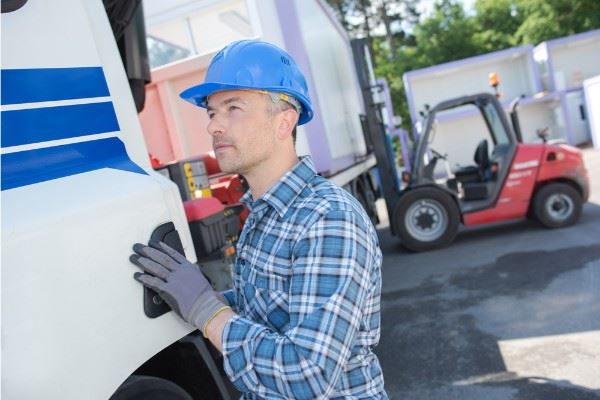 One of the best practices a big rig driver can adopt is doing a by-the-numbers examination of their vehicle, and then get any needed mechanical repairs made before they roll. The Driver Vehicle Inspection Report (DVIR) can help ensure the vehicle is sound mechanically and help the driver avoid roadside inspection violations that can cost them a significant fine and sometimes their driving livelihood. 
Which DVIR Form Must We Present for Roadside Inspections?
The FMCSA, CHP and Commercial Vehicle Safety Alliance (CVSA) do not require that a specific form be used or carried. The requirement is to complete a pre-trip inspection and take the DVIR form with the vehicle during the trip, after the required mechanic or carrier signatures are given signifying the resolution of any mechanical problems or there was no repair needed.  
According to the FMCSA, the form used by the driver is up to the carrier unless the state or DMV requires that you use a specific form. Although the CA DMV does not make its use mandatory, there is a memory aid on page 11-11 in the CA Commercial Driver Handbook, (DL 650) which you can download from here and use. 
Perhaps, the best method is to conduct your inspection the same way every time so that you know you have not missed anything. Although it is not required, many drivers start at the curbside front of the vehicle and work their way around, then go back to the cab after everything outside gets checked. 
When testing for your commercial driver's license (CDL), you can utilize the memory aid provided in the handbook; however, you must not add any notes to the page you use to test. Using this form repeatedly will assist you to remember everything. 
Make sure the emergency flashers, horn, turn signal and brake lights are working on the vehicle you intend to inspect. Those are the first items you must check; your test will get delayed until those get fixed if those are inoperable.
Which Items Are the Most Common Faults During Roadside Inspections?
Believe it or not, the roadside inspection starts while the truck is still on the road. CCTV cameras monitor the commercial motor vehicle (CMV) lane as they approach.  Overweight trucks, trucks/buses selected by the Inspection Selection System (ISS) and those with obvious shortcoming such as no seatbelt, an inoperable light, cargo tie-downs flapping, etc. get flagged into the weigh station for a more thorough inspection. However, vehicles with the CVSA sticker for a passed inspection without obvious violations will not normally get stopped.
Roadside inspections generally take 15 minutes to one hour and can result in warnings, tickets, fines, out-of-service orders, an arrest or another penalty.  
Besides these apparent shortcomings, the top four mechanical items every CMV operator should look for include:
Lights and reflectors that do not work
Tires
Brakes
Fire extinguishers
Of course, log book violations and non-use of seat belts are top violations at roadside inspections. When inspecting the vehicle, check all lights and clean reflectors, then carry extra bulbs and fuses. Check tread depth of tires and replace any that have less than 4/32" tread, depending on how far you intend to travel, or those with visible bulges. There is an entire list of things to check for on brakes, and don't forget the parking brake. Fire extinguishers should be checked and inspected by fire department personnel annually, especially if you are using a vehicle other than the one you usually drive.
Use the DVIR, carry it with you, update it after every shift and enjoy a no-stress roadside inspection. But, if despite all your efforts you get a traffic ticket, consult with a traffic law professional.
Traffic Ticket Attorneys for Roadside Inspection Violations in Mojave, CA
Call Bigger & Harman, (661) 349-9300, if you received a ticket for a roadside inspection violation or any traffic ticket. We have our office in Bakersfield in Kern County at 1701 Westwind Dr., Suite #203. And, we practice only traffic law using a flat fee throughout Central Valley. We can assist CDL holders with overweight tickets, equipment and permit violations and DMV Hearings.
Send us an email, attorney@biggerharmanlaw.com.
Se habla Español (661) 349-9755.
View feedback and comments from clients on our Facebook page Avvo, Nolo or Yelp.
References:
The 2018 CA Commercial Driver Handbook .pdf
Joseph Zito's PowerPoint Presentation, Roadside Inspections
The Truck News article, What Really Happens at CVSA Roadside Inspections?