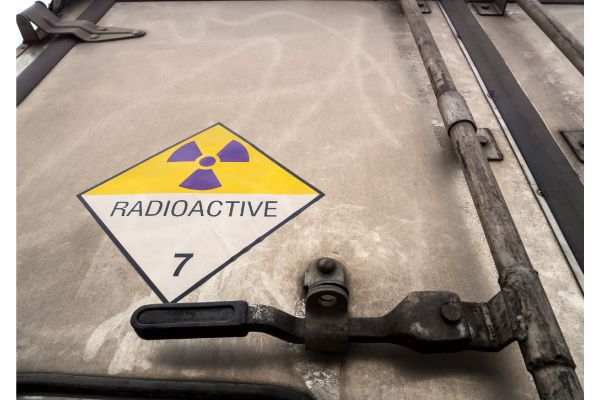 It is a violation of CA Vehicle Code (CVC) 27903, Signs to transport hazardous material (HazMat), or (HM) without a properly affixed HazMat placard.
Further, no driver shall transport HazMat without first passing the DMV-provided knowledge test and receiving a HazMat endorsement for their commercial driver's license (CDL). At no time is a commercial license permit (CLP) driver allowed to transport HazMat but may accompany a CDL holder for on-the-job-training (OJT). 
HazMat Placard Instructions for Riverside, CA   
Chapter 9 of the 2019 CA Commercial Driver Handbook.pdf discusses how a CDL holder gets an endorsement for their CDL to haul HazMat. It also provides guidance for transportation of HazMat in CA and tells shippers and drivers what  their responsibilities are before and during transport. 
Figure 9-1 shows which division of HazMat most materials fall into and how the HazMat placard gets marked with a number corresponding to that division or class. 
For example, class 6 is poison, so cartons with poison must have a diamond-shaped label attached with an extension where necessary. The shipper must supply the driver with documentation and HazMat placards to mark the truck.  
HazMat drivers must familiarize themselves with this chapter before movement. Chapter 9 also provides emergency procedures and instructions for rest breaks. All HazMat drivers must have a route map approved by the CHP in their document pouch or folder showing prescribed rest stops. 
Unauthorized stops when hauling HazMat or missing or outdated maps could lead to a misdemeanor traffic ticket. 
Drivers are advised to resist answering questions by law enforcement officers without legal representation. Although the incorrect location of HazMat placards is not a misdemeanor, the following are possible misdemeanor traffic tickets:
Wrong routes, missing or incorrect route maps, or endorsements
Missing or outdated inspection record
Missing shipping documents
Each of these could lead to a $4,175 fine and/or three Negligent Operator Treatment System (NOTS) points. Exercise your "right to remain silent" and consult a traffic law attorney with a criminal court background. 
Consult a Traffic Ticket Attorney about HazMat Placard Tickets 
Call Bigger & Harman when you get stopped and ticketed for improper HazMat placards, improper endorsements, and other traffic tickets, (661) 349-9300. Se habla Español (661) 349-9755. We are traffic attorneys who can handle your traffic tickets and violations in Riverside. 
Send us an email, attorney@biggerharmanlaw.com, with a copy of your ticket. 
References:
The 2019 CA Commercial Driver Handbook.pdf
CVC 
27903
, 
Signs, 
31602 (a-c)
, 
31611
, & 
31612
 Transportation of Explosives