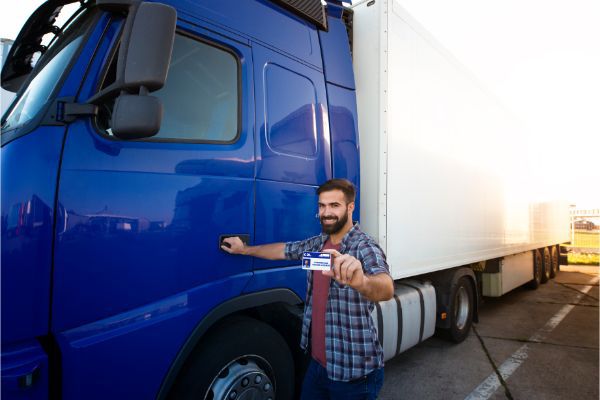 When you, as a commercial driver's license (CDL) holder, wish to haul certain types of specialized cargo such as tankers, hazardous material (HazMat), ambulances, and even charter or passenger buses, you must have an endorsement.
Many of these endorsements require a special background investigation before application, and then, knowledge and skills testing. For instance, when you want to drive a charter bus, you need a (P) endorsement for passengers or an (S) for a school bus. There's an (H) for HazMat, which probably requires the most stringent background check and testing as hauling these are dangerous to the public.
The Fundamental Requirements of a CDL by Type
The Commercial Motor Vehicle (CMV) Safety Act of 1986 requires all drivers of commercial vehicles to have a commercial learner's permit (CLP) or a CDL. CLP drivers cannot operate vehicles with HazMat, tank vehicles unless they are empty, and passenger vehicles with passengers onboard.
A Class A CDL is required for the combination of vehicles with a GVWR or gross vehicle weight rating of 26,001 pounds, or when the towed vehicle/s weighs 10,000 or more pounds:
Tractor-trailers
Tank vehicles
Flatbeds
Livestock carriers
Doubles or triples
With the correct endorsement, you might be able to drive Class A or B vehicles.
A Class B CDL is required for the combination of vehicles with a GVWR or gross vehicle weight rating of 26,001 pounds when the towed vehicle weighs less than 10,000 pounds:
Tractor-trailers
Segmented buses
Passenger buses
Boxed trucks
Dump trucks
With the correct endorsement, you can drive Class C vehicles.
A Class C CDL is required to drive vehicles designed to transport 16 or more passengers including the driver and small HazMat vehicles with an endorsement:
Smaller HazMat vehicles
Any combination vehicles not covered by Class A or B
Passenger vans
An applicant for an in-state CLP must be 18, and currently, interstate drivers must be 21 at the time of application. However, those with an intrastate CDL prior to their 21st birthday automatically transfer.
CDL Endorsements According to the CA Commercial Driver Handbook
The CA Commercial Driver Handbook.pdf requirements for CDL endorsements begins on page 1-4 and 1-5. The required endorsement and single letter codes are:
To transport HazMat or waste (H)
Tankers (N), which includes cement trucks
Charter bus or Passenger transport (P)
School bus (S)
Tanks with HazMat or waste (X)
Firefighter vehicles (F)
These pages also spell out the requirements and exceptions. An example of an exception to CDL possession with an endorsement is military transport drivers.
Roseville, CA CDL Drivers Ticketed for No Endorsement Should Consult a Traffic Attorney
Call Bigger & Harman if you get ticketed for driving a CMV without the correct endorsement or for driving a class of vehicle not within your CDL limits, (661) 349-9300. Se habla Español 661.349.9755.
We are traffic attorneys who represent CDL holders with traffic violations in California. We also represent drivers at DMV Hearings for additional leeway for NOTS points. Call us for a free, no-obligation consultation.
Send them an email, attorney@biggerharmanlaw.com.
References:
The 2019 CA Commercial Driver Handbook.pdf