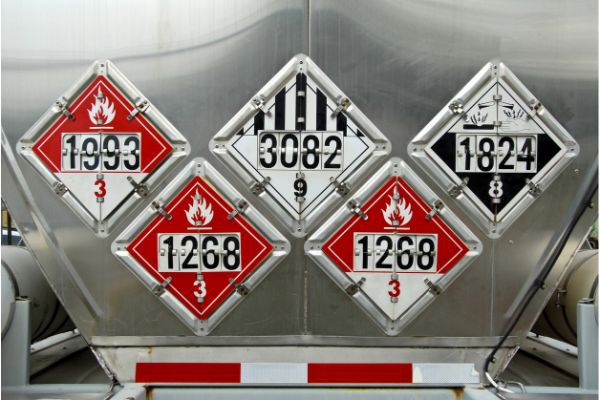 Hazardous material (HazMat) haulers get subjected to hundreds of misdemeanor HazMat tickets. Did you know there are more than 350 sections of traffic law that could lead to a conviction, a criminal record, and possible jail time for HazMat haulers? Without experienced and knowledgeable representation, a misdemeanor HazMat ticket could result in substantial penalties for the driver and firm. 
Misdemeanor HazMat Ticket Driver Actions
The first thing every driver should do is avoid the circumstances that could lead to a ticket in the first place. Complete your Daily Vehicle Inspection Report every time before moving. Simply considering it as another paperwork headache and taking shortcuts could leave you holding the bag on a misdemeanor charge. 
Make sure all maps are up-to-date and approved by CA Highway Patrol (CHP). The CA Vehicle Code (CVC) 31611, Transporting Explosivesis explicit about the route you take and where you can take your break. The CHP must approve these routes and stopping places. According to CVC 31602 (a-c), Transportation of Explosives, stopping in the wrong place could lead to a $4,175 fine and three Negligent Operator Treatment System (NOTS) points, depending on the CA county. 
That's a costly cup of coffee! Especially considering drivers are only allowed four NOTS points within a twelve-month timeframe before an Order of Suspension/Probation gets issued by the DMV. A truck driver can get consideration for exposure of miles driven, but they must request a DMV hearing within ten days, or the suspension will go into effect after 34 days. Always discuss this with a traffic attorney immediately.   
Wrong routes and unauthorized stops are not the only issues. You could get a misdemeanor HazMat ticket for a logbook violation, incorrectly displayed placards, hours of service (HOS), improperly secured loads and many others.   
Misdemeanor HazMat Ticket for Placards
What's more, HazMat drivers must correctly display the right placard depending on their load. The placard must establish what HazMat or explosive they are hauling. When first responders arrive at an accident scene, they must know what type of material is onboard to prevent further injuries and possible contamination.
The instructions and bill of lading for the load must accompany the shipment in the driver's envelope or folder. CVC 31612, Transporting Explosives, authorizes a $4,175 fine for failure to carry and display shipping instructions for explosives. Trucking firms, fleet management, and drivers should immediately consult with a traffic attorney who has misdemeanor trial experience before making a statement to LEO or court officials. 
A Side Note about Highway 99 in Bakersfield
For the next year, traveling north on the "fast lane" or number 1 lane will be a "through lane." That means you cannot get off between Olive DR and California AVE. A concrete barrier now blocks drivers from getting off the number one lane north of Stockdale Highway until beyond Bakersfield's city limits north of Olive.
If you stay in the fast lane, you will miss the exits for California AVE, Buck Owens BLVD, Highway #178/58, Highway #204 or Airport DR and Olive DR. You won't be able to get off the highway until Highway #65. Beyond that is Merle Haggard RD. 
This detour will remain until the summer of 2020 when they will switch to do the southbound stretch. See Bakersfield.com for more information. 
Ask Traffic Attorneys Who Live & Practice in Kern County
Call Bigger & Harman, (661) 349-9300, to get experienced and knowledgeable advice about how to handle violations and tickets. 
Living in Bakersfield and practicing only traffic law here gives us a certain rapport with judges and other key personnel in the court system. Therefore, it is easier for us to negotiate for you. Because we handle misdemeanor HazMat tickets in many Kern County Courts such as Lamont, Delano, Ridgecrest, Mojave, and Shafter, we know where to go and whom to talk to about your specific situation. 
Many court officials understand there is a fine line between an infraction and a misdemeanor HazMat ticket. They might consider whether a driver who has driven a route for many years get a criminal record for having an outdated map? Because we handle only traffic law, we know the legal language the judge is looking for on a request for dismissal or reduced charge. That does not mean we will always get it, but we will diligently pursue the best result for you no matter how many court appearances we need to make.   
Send us an email, attorney@biggerharmanlaw.com.  
Se habla Español (661) 349-9755.
The 2019CA Commercial Driver Handbook .pdf
CVC 31611, Transporting Explosives