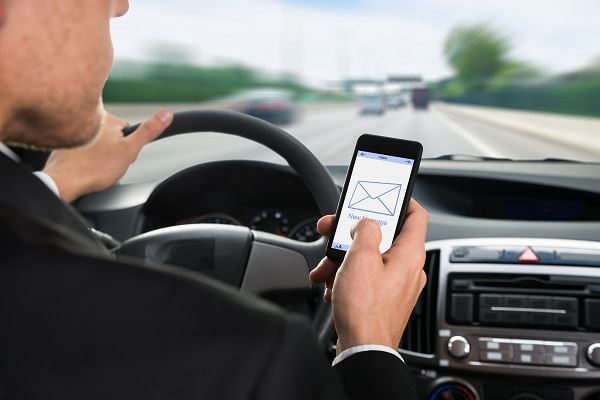 Using a cellphone while driving in CA is legal as long as you use a hands-free device. CA Vehicle Code (CVC) 23123.5, Driving Offenses regulates the use of a cellphone and other communications devices, including CB or broadband devices, tablets, and laptops while driving. While driving includes sitting at a red-light. This statute prohibits the use of even hands-free devices by minors, those under 18 years of age.
However, law enforcement cannot pull a driver over to ascertain if they are under 18 and using a hands-free device, but they could ticket you if you are pulled over for another reason. Page 15 of the DMV Driver Handbook provides more information about cellphone use by minors.
Cellphone use when driving is far too common, even though it is extensively considered as hazardous due mainly to the potential for distraction. Although immensely popular with young drivers, texting while driving presents a "real and present danger." Statistics show that texting while driving causes 25 percent, or one in every four, accidents. Ten percent of all drivers killed between the ages of 15 and 19 were distracted while driving. Texting while driving accounts for nearly 500,000 injuries or deaths each year in the United States.
Mounted & Installed Cellphones
The new law, effective 1 January 2017, states the communications device must be designed for a single finger swipe or voice-activated and "mounted on or affixed to a vehicle's dashboard or center console in a manner that does not hinder the driver's view of the road."
Most of these deaths and injuries could be prevented by having a hands-free system installed or by installing a mounting device on the dashboard for your cellphone while driving. Likewise, with modern technology, the use of a voice-activated texting app such as Text by Voice, Speechnotes, and Speech Texter to name a few could prevent taking your eyes off the road to send texts and save lives. Granted, the use of these would still be illegal for those under eighteen.
Prohibited Practices with a Cellphone or Communications Device
In CA, it is illegal to even pick up a cellphone while behind the wheel of a vehicle, even while stopped at a red-light or stuck in traffic, except for emergency use. You can use a cellphone for emergency calls to law enforcement, fire department, medical services, healthcare providers, or other emergency service agencies.
The language in CVC 23123.5 prohibits truckers and amateur ham radio operators from using a handheld device that is keyed by hand. They too must use a voice-activated device.
What Will it Cost?
The base fine for the use of a cellphone while driving is $20 for the first-time offender and subsequent violations are $50. However, with the state and county assessments and fees, the first offender fine is about $160, and then around $280 for each following violation.
Consult with a Bakersfield, CA, Traffic Attorney
This is mostly an information piece for Class C license holders. Because a cellphone ticket is not a moving violation and there are no points associated with it, it is best for most drivers just to pay the fine. Ask Bigger & Harman.
However, for drivers who were ticketed for using a cellphone in their commercial motor vehicle, the FMCSA assesses five Compliance, Safety, Accountability (CSA) safety points. Depending on other violations received within the previous six months those could be multiplied by three for time weight.
Additionally, some fleet managers have a zero-tolerance for CSA safety points, and you could be terminated for cellphone use while driving. Call Bigger & Harman, (661) 349-9300. Se habla Español (661) 349-9755. We handle all types of traffic tickets and have had great success defending CDL holders with equipment violations, overweight tickets, and speeding.
Send an email to attorney@biggerharmanlaw.com.
References:
CVC) 23123.5, Driving Offenses
The 2018 CA Driver Handbook .pdf
The 2018 California Superior Court
Bail Schedule for Infractions and Misdemeanors
.pdf