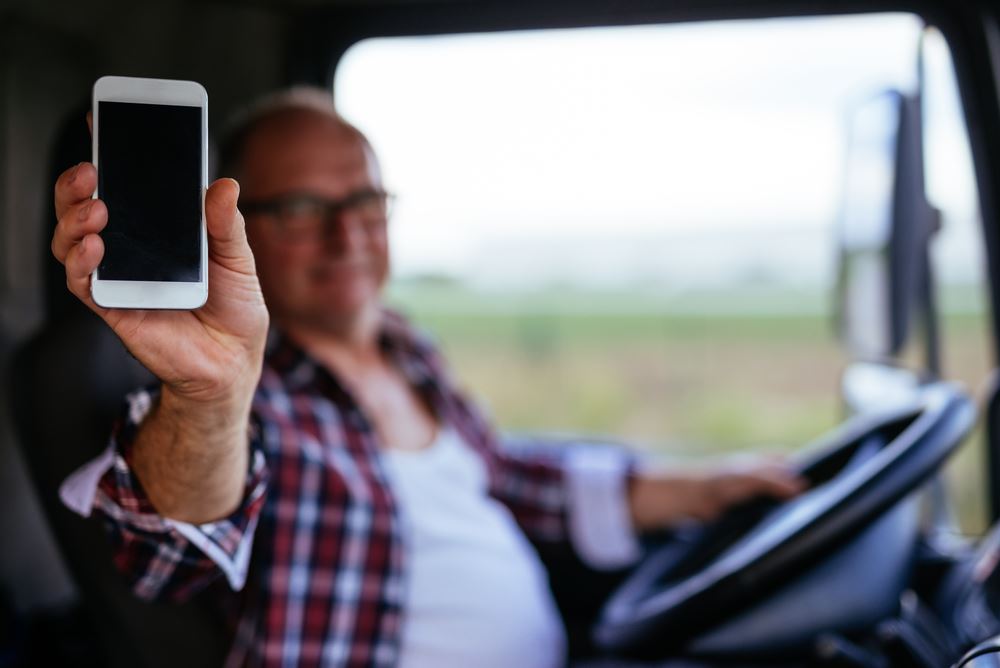 As CDL holders are most likely aware, the DOT FMCSA is clamping down to reduce the problem of distracted driving. Use of cell phones while driving has become a hot issue lately because it has resulted in a large number of deaths and injuries. This drastic uptick in crashes has coincided with the popularity of the smartphone. Though most commercial drivers know better than to use a cell phone while driving, many are using the smartphone app for their "grandfathered" Automatic On-board Recording Device (AOBRD) or new electronic logging device (ELD). CDL holders face a significantly higher penalty than their non-commercial driving counterparts.
What Can a Cell Phone Conviction Cost the CDL Holder?
Chances are, you already know about the dangers of using a cell phone while driving. But, let's face it; it can be very tempting to answer that text with a simple one-letter reply such as "k." It's just one letter, right? How bad could it be? The answer is that it can be nasty both in terms of physical damage and financial penalties. The only way for CDL holders to prevent this is to avoid using your cell phone unless it is mounted or part of the onboard system. And, if you do get caught, seek legal counsel.
You should also be aware that the law does not prevent you from using a "hands-free" setup, or from using your CB radio. Due to to the puzzling language in the bill, CB use has been called into question in CA after AB 1785's enactment of the new distracted driving law went into effect 1 January 2017. It stated, "electronic wireless communications device" includes, but is not limited to, a broadband personal communication device, a specialized mobile radio device, a handheld device or laptop computer with mobile data access, a pager, or a two-way messaging device."
Does that include CB radios? Unfortunately, the ambiguous language has been left up to the CHP to interpret. According to most reports, the CHP supervisor says they won't enforce truckers not using the CB. If you absolutely need to communicate with someone while you are behind the wheel, you can safely do so using one of these methods or pull over and engage the parking brake system.
The FMCSA defines cell phone use as, texting or use of handheld phones while driving, stopped at a red light, or in a traffic jam but not when pulled over with brakes engaged. Lickers, an MTO enforcement advisor, speaking at the PMTC conference stated this about roadside inspections, "Cell phone use [or misuse] and seat belt use is also quite common out there. It's something that we certainly monitor when we're at the truck inspection station because that is still part of the highway." He also related many truckers put on their seatbelt or put away their cell phone when approaching the "chicken coop" or weigh station; however, many had already been filmed using the device.
What to Do If You Already Received A Ticket
You most certainly cannot afford to take the ticket and drive on. With most traffic tickets, non-commercial drivers don't really have to worry a lot. They can resolve the matter by going to the court clerk and paying a fine of about $150. It's not even a moving violation, although insurance consequences can apply.
For a CDL holder, this issue becomes much more significant. Not only will they get a substantial fine , but they are likely to face severe consequences from their employer, up to and including termination of employment. Second-time offenders get hit with a 60-day suspension, and it goes up to 120 days on the third offense. If you happen to run a trucking company, and you are found to have allowed the use of cell phones by drivers, the penalty is much higher, about $11,000!
You need the services of an expert traffic ticket attorney for this situation. CDL holders are expected to adhere to a higher standard. You do not want to ignore this problem. You are dealing with an infraction that can jeopardize your entire livelihood and drain your bank account. The money you save on the fine alone is worth the cost of a skilled attorney. In the case of Bigger & Harman, APC, it will be much less than you expect because they use a flat rate for resolution.
The Value of Consulting a Traffic Ticket Attorney in Bakersfield, CA
CDL holders charged with a cell phone violation should call Bigger & Harman, a trucker-friendly firm located in Bakersfield, Kern County, who practice across the Central Valley, (661) 349-9300. Se habla Español 661.349.9755. You know you don't have time to defend yourself; let us be your legal advocate. Even when you know you were wrong, the state must prove it, and there are always technicalities. If it's possible to challenge and win, we are your best bet. Plus, traffic law is not an odd-job for us; we only practice traffic law and use a fixed-fee so that you "know before you go." We don't charge hundreds of dollars per hour, regardless of how many court appearances we need to make to get resolution.
Send an email to attorney@biggerharmanlaw.com.
References:
A presentation by Joseph A. Zito Jr. "US DOT HazMat Enforcement"
The TruckingNews.com article "What Really Happens During a CVSA Inspection" written by Sonia Straface
AB 1785 & CA Vehicle Code (CVC) 23105, Driving Offenses
The QRZnow.com article, "Two-Way Radio Users' Worried California's Cellphone Ban Is too Broad" written by Macy Jenkins