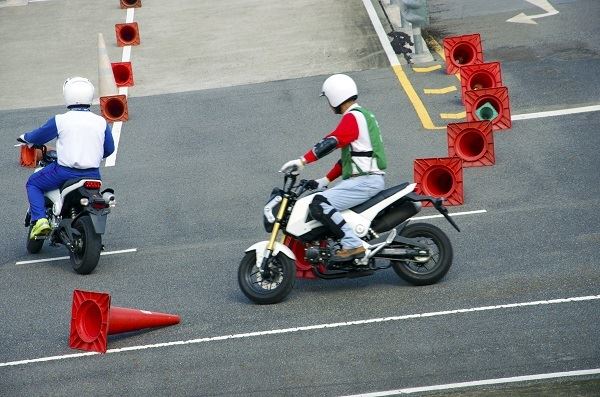 Motorcyclist Training Course Legal Requirement
The best place to start looking for a state-approved motorcyclist training course is with the CA Highway Patrol (CHP). According to CA Vehicle Code (CVC) 2930, CA Motorcyclist Safety Program (CMSP), the CHP must administer the program. However, the CHP does utilize private contractors.
The Motorcyclist Training Course is a requirement for all residents under 21-years-of-age who wish to get a motorcycle permit, per CVC 12509.5, Persons Required to Be Licensed, Exemptions, and Age Limits. After completion of the 15-hour training, CHP issues the DL 389, a Certificate of Completion of Motorcycle Training, which you must present to the DMV for your permit. The course consists of 5 hours in the classroom and 10 hours of riding. You must have your permit for six months before applying for an endorsement.
For applicants over 21-years-of-age, possession of the DL 389 waives the road test. If you do not have a DL 389, you must request an appointment to take the road test. You will have three opportunities to pass.
Whether you are requesting an M1, which authorizes you to drive a two-wheeled motorcycle, a motorized scooter, and a motor-driven cycle, or a Class M2, which authorizes the driving of motorized bicycles, mopeds, and motorized scooters, you must have a motorcycle endorsement on your CA driver's license (DL).
What to Look for in a Motorcyclist Training Course
The DMV provides a list of preferred training courses at http://www.ca-msp.org/.
Ensure any motorcyclist training course you choose meets these minimum training standards:
● Motorcycle basics
● Motorcycle laws
● Motorcycle handling and maneuvering
● Hazard avoidance
● Provides a certificate of completion that waives a riding test by DMV, if desired
Also, the course should meet the National Highway Traffic Safety Administration's (NHTSA) curriculum for Model National Standards for Entry-Level Motorcycle Rider Training. This manual prescribes the student-instructor ratios, safety and protective equipment requirements, instructor qualifications, and the minimum baseline for training novices, which are:
● Pre-ride tasks
● Control skills
● Street strategies
● Street management skills
● Causes of negative rider performance
● Carrying passengers or cargo
One or more of these baseline standards might not be mandated in the CMSP or the CA Motorcyclist Training Course, but are instead guidelines for the CHP to consider in their programs.
Hire a Central Valley Traffic Lawyer
Remember that as a motorcycle rider you are obligated by the same laws as other vehicle operators on CA's roadways. However, many law enforcement officers (LEO) will write you a ticket for a violation of CVC 21658, Unsafe Lane Change, when you were "lane splitting" or "lane sharing." Although lane sharing is legal after 1 January 2017, if you receive a ticket you should consult a traffic ticket attorney. Many LEOs do not understand the law, or they try to interpret its meaning. Get expert legal advice from Bigger & Harman. To be exact, you should always consult a local traffic attorney when you get a ticket.
Bigger & Harman, APC is a traffic ticket defense team that practices in many traffic courts around the entire Central Valley area, SLO, Riverside, and LA county courts. It's important to note that they practice only traffic law because traffic court is unlike any other courtroom. It is fast-paced and busy. A lawyer that practices another legal category might get lost in traffic court or miss recent changes to the CVC that might have allowed your case to get dismissed.
Read their write-up on Nolo.com, one of the nation's leading online legal digest. For a convenient and confidential appointment use their website contact form, or their Facebook page.
Call Bigger & Harman, (661) 349-9300, to set up an appointment for a consultation. You might also wish to send them an email with a scanned copy of your ticket and the details, attorney@biggerharmanlaw.com.
Se habla Español 661.349.9755.
References
The California Motorcycle Handbook available at DMV.CA.GOV
CVC 2930-2935, CA Motorcyclist Safety Program (CMSP)
CVC 12509.5, Persons Required to Be Licensed, Exemptions, and Age Limits
The NTHSA's Model National Standards for Entry-Level Motorcycle Rider Training
"Motorcycle Safety" webpage at DMV.CA.GOV