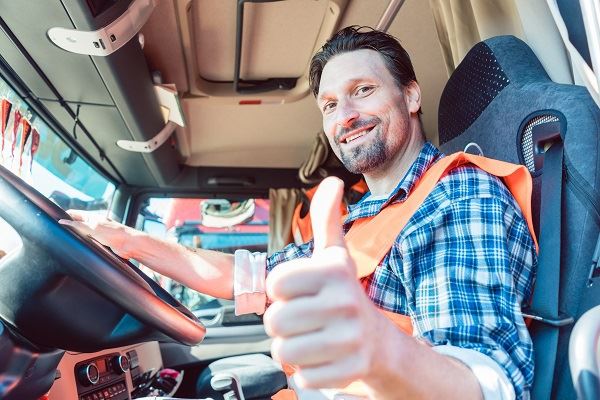 Truckers and other commercial driver's license (CDL) holders spend a great deal of time on the road. Just looking at the odds of a person who spends 60 hours a week on the road would suggest they are apt to get ticketed more often than non-commercial drivers. In fact, the DMV knows that and has a stipulation built into their Negligent Operator Treatment System. This stipulation allows CDL holders to increase the number of NOTS points they can accumulate before receiving a suspension. On the surface, this looks fair. Yet, there are two sets of penalties for traffic tickets.
The DMV assesses NOTS points and conducts NOTS Hearings by authority of CA Vehicle Code (CVC) 12810, "Issuance and Renewal of Licenses," which provides specific points for moving violations and stipulates which violations are not assessed points. A cellphone violation, a non-moving violation, or a correctable offense (vehicle equipment or maintenance) are violations which are not assessed points.
The DMV assesses regular drivers one NOTS point for an at-fault accident or minor infraction such as speeding, improper lane change, or a red-light ticket conviction. The CDL holder is hit with fifty percent more or 1.5 for violations in their commercial motor vehicle (CMV). Except for responsible collisions, which counts as a one-point assessment whether in a CMV or private vehicle.
However, major infractions or misdemeanors such as speeding more than 100 mph, hit and run, and street racing, are all violations you will almost never see a professional driver get ticketed for. These violations are two NOTS points for regular drivers and three for CDL holders.
NOTS Hearing for Suspension Order
Generally, when a driver receives four NOTS points within a one-year period, six within two years, or eight within a three-year period, the DMV presumes the driver to be a negligent operator and mails the driver a Probation/Suspension order. The driver then has ten days to request a DMV NOTS Hearing.
However, under the following conditions a CDL holder is authorized a higher point count of six within a year's time frame, eight within a two-year period, or ten within a three-year period:
When they request/appear before a DMV NOTS hearing,
Do not hold an endorsement for HazMat, Ambulance, School/Youth/Tour/ Bus, Farm labor, or as a Public Paratransit, and
When their point count is not attributable to violations in a private vehicle or motorcycle
The following is a list of circumstances a NOTS Hearing official can consider during the hearing:
A pattern of violations
The severity of violations
A driver's remorse or acceptance of responsibility for driving behavior
At-fault accidents where the driver was not clearly responsible
Vehicle mileage
Mitigating circumstances or hardships
The hearing official is not limited to consider just the items listed but may examine others, such as the driver's testimony. Although a NOTS hearing does not require legal representation, nor will the state pay for such representation, the driver has a clear advantage by hiring a traffic ticket attorney to assist at their hearing.
A driver can request a NOTS Hearing in Bakersfield, CA, by mail: 5800 District Blvd., Ste. 100-B, Bakersfield, CA, 93313-2148 or by calling (661) 833-2103 Mon, Tue, Thurs, and Fri between 8 am and 5 pm and on Wed from 9 am to 5 pm.
Traffic Ticket Attorneys for NOTS Hearings in Bakersfield, CA
Call Bigger & Harman, (661) 349-9300, se habla Español (661) 349-9755 when you need representation at a NOTS Hearing, or you need advice or assistance with a traffic ticket. Bigger & Harman have their office at 1701 Westwind Dr #203 in Bakersfield.
Bigger & Harman have successfully represented over 2000 traffic ticket recipients in traffic courts across the Central Valley and in some SoCal courts, many of whom were CDL holders. They understand the importance of a CDL holder keeping a clean driving record and do everything possible to ensure their clients' cases are resolved favorably.
Send them an email, attorney@biggerharmanlaw.com.
Here's what Patrick Bowers had to say about their legal service on Google, "Bigger & Harman got my traffic ticket completely dismissed! Just one moving violation on my record could have severely hurt my employment prospects and caused my insurance to go up as much as $2,000 over three years. The Bigger & Harman team saved my employment prospects and $2,000! They were able to prevent my employment prospects from being hurt and also prevent my insurance to go up at all! Bigger & Harman were clearly committed to keeping my record clean. Hire them. Well worth the investment."
Visit the Bigger & Harman Facebook business page, or read comments and feedback left by client's on Avvo and Nolo, or Yelp
References:
The 2018 CA Commercial Driver Handbook .pdf
The DMV.CA.GOV website Negligent Operator portal
CVC
12810
, "Issuance and Renewal of Licenses"