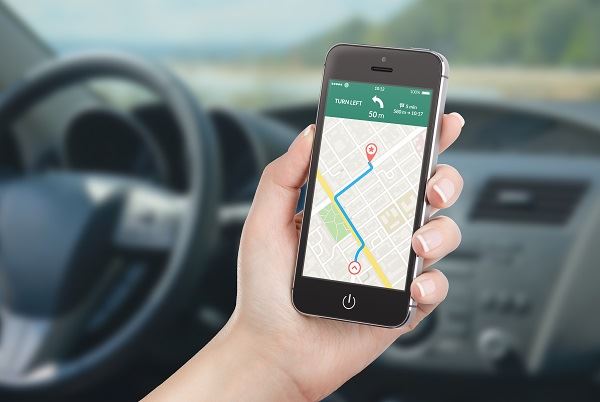 As the ball dropped and it officially became 2017, new traffic laws were put into place in California. As of January 1, 2017, a few laws were changed, added or clarified under the CVC. As a driver, it is important to know how the laws have changed to avoid unnecessary tickets and fines in the New Year. Here are a few changes to the traffic laws in California to keep you abreast of what you can be cited for behind the wheel.
Using GPS Applications on Your Cell Phone
Many drivers depend on the GPS application on their cell phones to help them plan their trips. Although it has been illegal to use a handheld cell phone for sending or receiving communications for some time, many drivers were still using it for GPS. The law now dictates that it is illegal to use a hand-held device or phone, even for GPS applications.
Per Assembly Bill 1785, the change to the use of wireless devices code in the CVC states that GPS devices must be mounted on the windshield in the right or left lower corner to be legal. Another option is on the dashboard, if it does not block the view of the driver or airbag deployment.
Motorcycle Lane Splitting
It is now defined as legal for motorcycles to use lane splitting on California roads under VC 21658.1 after AB 51 was signed in August 2016. This is defined as driving a motorcycle in the same lane between rows of stopped or moving vehicles. While it was not defined as illegal before January 1st, it is now considered legal under the law.
Child Car Seat Regulations
Child car seat regulations under VC Section 27360 have been altered slightly for 2017. Children under the age of two must be in a rear-facing child passenger seat, with an exception. Children who are 40 lbs. or heavier or are at least 40 inches tall are exempt from this regulation regardless of age. All children under eight years old must still ride in the back seat in a child safety seat.
Pleading ignorance to changes in the law will not get you out of a traffic ticket. However, many tickets can be dismissed when you have an attorney on your side to fight your case.
Avoid Traffic Tickets in 2017
Our experienced attorneys at Bigger & Harman, APC, are committed to assisting our clients when fighting speeding and other traffic tickets. Call today at 661-349-9300 or email attorney@markbigger.com to receive a personal, free consultation. En español, llame al 661-349-9755.