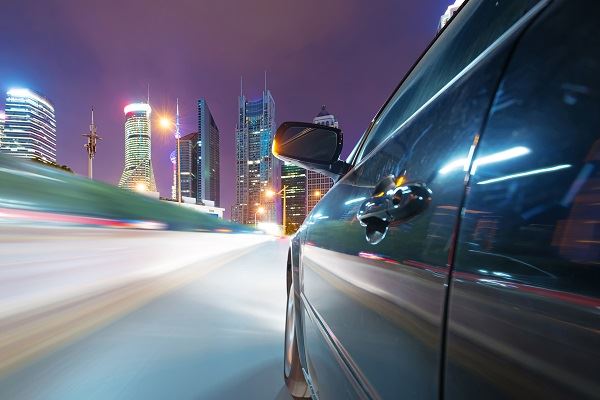 So, you thought you would have a stress-free weekend in Vegas, do a little gambling, some wave boarding, see a show, and drive back early enough on the Fourth of July to see the fireworks. You got a double ultra-hip room at one of the top hotels with a double Flow Rider (Surf Simulator) experience at a decent discount, and tickets to the Cirque du Soleil show "O" also discounted. You couldn't possibly be more stoked about the long weekend trip to Vegas with your significant other. How could you possibly know you'd be singing the blues about a speeding ticket before the end of the weekend?
The Vegas Trip
We had been planning this trip for a while, CA-58 East the Barstow area, then I-15 North through the desert to the Vegas Boulevard. With a four-hour drive, stops for gas and coffee, and we should hit the strip between eleven and midnight, which is a great time to cruise the strip.
The trip to Baker was uneventful, nothing but other traffic and tumbling tumbleweeds. We did see several cars that had been pulled over by law enforcement officers (LEOs), cars that had flown by us, probably getting a speeding ticket. We passed Burger King, Jack-in-the-Box, Arby's and others for our planned stop at Fatburger's for coffee and a quick bite of a burger. It wasn't a bad place to get a burger in the middle of the desert.
The Vegas Strip
Just as we had planned we hit the Strip just after 11. We take a right off 15, down Tropicana and a left on the Strip. It's a carnival of lights with its fabulous fountains dancing in the dark, well-lit and sparkling, it's that dancing cowboy that everyone's seen, if not in person then on TV or movies, it's erupting volcanoes, it's the Monte Carlo, it's Paris and Planet Hollywood. It's just an amazing sight on Friday night.
The weekend was everything we planned and more, but too soon it was Tuesday and time to head back to Bakersfield. A speeding ticket was not even on my mind.
The Return Trip
Like the trip up, the trip back was uneventful. Whether you call it I-15, Veterans Memorial Highway, or Barstow Freeway, it's boring. After a frenzied, fast-paced weekend in Vegas, everything seems so slow. We stopped at Los Dos Toritos, the Carne Asada Torta was excellent and their salsa was awesome. It doesn't look like much, but the food is very filling and it's clean.
After pulling out of the gas station I could feel the pull of home on my mind and I may have stepped down on the gas pedal a little bit because the next thing I knew the flashing lights came out of the desert night and turned my car's interior into a disco. As I wait for LEO, the radio announcer is telling me about how Traffic School online starts at just $14.95. "Isn't it ironic?"
LEO handed me a speeding ticket for 83 in a 65-mph zone and told me it was going to cost me a little less than $400. It's not really the fine I am worried about, it's that I already have three NOTS points, so I am looking at a suspension if I just pay the fine. I guess I better call an attorney.
Hire a Traffic Ticket Attorney
Although, Baker is in San Bernardino County, this driver is in luck because Bigger & Harman represent clients in San Bernardino, Riverside, SLO, and LA County as well as those in Central Valley. Additionally, Bigger & Harman will go to court in your place whenever the court requires an appearance by you or your attorney, at an arraignment, trial, or when you need a postponement. Read the write up on Nolo.com about this Central Valley Law Firm.

Bigger & Harman offer you a free phone consult with no obligation, 661-349-9300. Additionally, they represent clients in traffic court in San Bernardino, Kings, Kern, Fresno, LA County, and many other Central Valley and SoCal locations. For confidential and convenient appointment set up, use their website contact form, or email attorney@markbigger.com.

You can even contact them now on their Facebook page.

En español, llame al 661-349-9755.