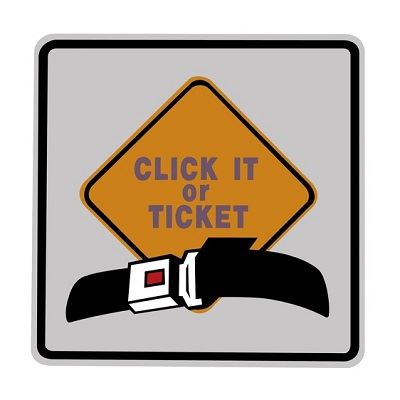 Officers in Fresno and San Bernardino who haven't even caught up on paperwork from April's Distracted Driving Awareness Month are gearing up for another program to "celebrate" Memorial Day.
The vaunted "Click It or Ticket" campaign will be back around the Memorial Day weekend, because these few days are usually one of the busiest times of year for roadway traffic. Although almost nine out of ten drivers buckle their seat belts, the National Highway Transportation Safety Administration says that 50 percent of the folks killed in motor vehicle wrecks were not wearing seat belts. Officers will especially be stressing nighttime enforcement, because compliance is lower when the sun goes down.
The Selective Traffic Enforcement (STEP) program runs through June 5.
Seat Belt Tickets
VC 27315 infractions are $161.00 a pop, when including the fine, add-ons, and penalty assessments. Since they are no-point infractions, traffic school is usually not an option. Subsections (d) and (e) require the driver and any passengers to wear their seat belts, and with some exceptions, the drivers are responsible for the passengers.
The car seat laws are in Article 3.3, and the penalty can be up to $489.00. A child under 40 inches tall or weighing under 40 pounds must be in a rear-facing safety seat in the vehicle's back or middle seat. Children under 8 must be in a booster seat; children 8 to 16 may be able to get away with just a seat belt, especially on the higher end of the age spectrum.
These infractions have a lot to do with the lighting. In pretty much all such trials, the officers testify that they saw the seat belt's buckle dangling down, and that is why they stopped the vehicles. So, seat belt tickets are hard for the state to prove if the stop occurred at dusk, nighttime, or dawn.
Getting Legal Help
The aggressive attorneys at Bigger & Harman, APC, are committed to giving individuals a voice when dealing with speeding and traffic tickets. Call today at 661-349-9300 or email attorney@markbigger.com to receive the personal professional attention you deserve. En español, llame al 661-349-9755.